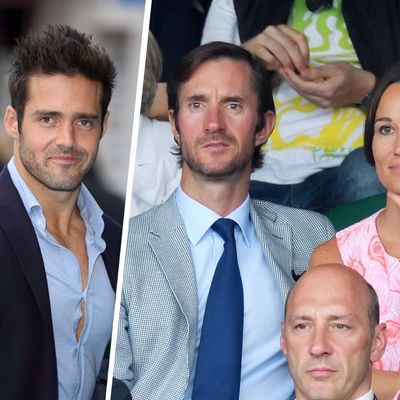 Spencer Matthews and the future bride and groom, brother James Matthews and Pippa Middleton.
Photo: Getty Images
Today in forthcoming nuptials, Pippa Middleton is engaged to multimillionaire hedge-fund manager James Matthews. (He reportedly proposed to her from the top of a hill.) A supremely interesting aspect of the couple's engagement, however, is not the blinding stop-sign-shaped diamond ring, or that this union is expected to be the biggest society wedding since Kate's, or even the maddening chatter over how the engagement solves the "Pippa Problem" of a British woman being single. It's her future brother-in-law Spencer Matthews, a British reality-TV star who once claimed to have slept with 1,000 women.
Like intrepid lifestyle journalist and party-planning author Pippa Middleton, Spencer Matthews is also a published author. A few years ago at a book launch for his memoir Confessions of a Chelsea Boy, he estimated he'd slept with 1,000 women in his then-25 years of life, but said the actual number was private. "I'm not a sex addict," he said, according to The Sun. "I just have an unhealthy appetite for sex."
As a reality-TV alum, his fame began on Made in Chelsea, a reality show about rich 20-somethings in West London. He once starred on a British version of The Bachelor. Last year, he left the show I'm a Celebrity … Get Me Out of Here! (out of the jungle!) after revealing he was addicted to steroids.
Now a poster child for steroid awareness, Matthews learned a lot about recreational steroid use while recently filming an investigative piece for Good Morning Britain. Last week he presented his findings on the show, telling Piers Morgan and another anchor he'd been clean for nearly a year and is ready to return to I'm a Celebrity.
In the tabloids, Matthews has apparently admitted to having orgies with friends and trying Viagra like he tried cigarettes because trying either, he once said, is like chewing a piece of gum. Once, he was allegedly photographed snorting cocaine in front of fans at a party.
Just imagine this guy on the dance floor with the royals! It's gonna be a fun wedding.