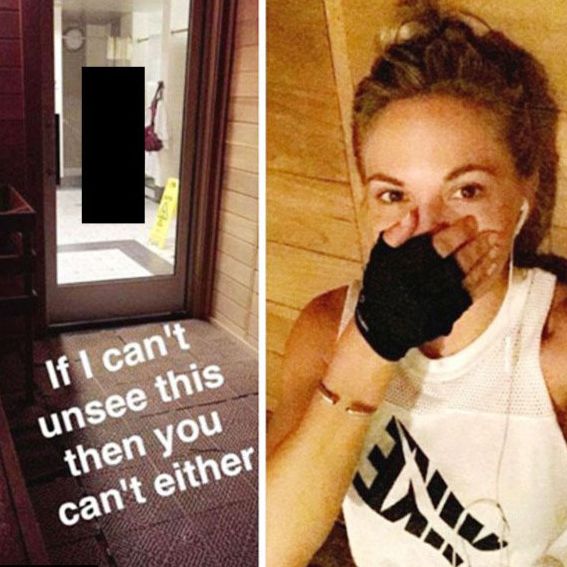 Photo: Courtesy of Snapchat/Dani Mathers
Model and 2015 Playmate of the Year Dani Mathers publicly body-shamed a naked woman in a gym locker room on Snapchat this week. Now, TMZ reports, the 29-year-old is out of a job and banned from every LA Fitness in existence.
In this true modern-day horror story, Mathers snapped a photo of a nude woman without her knowledge at an LA Fitness in Los Angeles. Then she took a selfie of her own disgusted face and posted both images to Snapchat with the caption, "If I can't unsee this then you can't either." She was condemned all over social media, offered up a non-apology saying she is Snapchat-challenged and meant to send it to a friend, and apparently deleted her Twitter and Instagram accounts.
On Friday morning, TMZ reported Mathers was suspended indefinitely from her years-long job on 95.5's "The Heidi and Frank Show." LA Fitness reported the incident to L.A. police after confirming Mathers was a gym member and the person behind the picture, according to TMZ. A spokesperson said she "is not permitted back at any club, ever." She added that phone usage and photography are forbidden in the gym's locker rooms: "This is not only our rule it is just common decency," she said.
Mathers previously offered an insufficient apology in a Snapchat video:
I just wanted to acknowledge a photo that I accidentally posted here on Snapchat earlier today and let you guys know that that was absolutely wrong, and not what I meant to do. I have chosen to do what I do for a living because I love the female body and I know that body shaming is wrong and that's not what I'm about, that's not the type of person that I am. That photo was taken to be a personal conversation with a girlfriend, and because I am new to Snapchat, I really didn't realize that I had posted it and that was a huge mistake.
Yes, a terrible, terrible mistake.