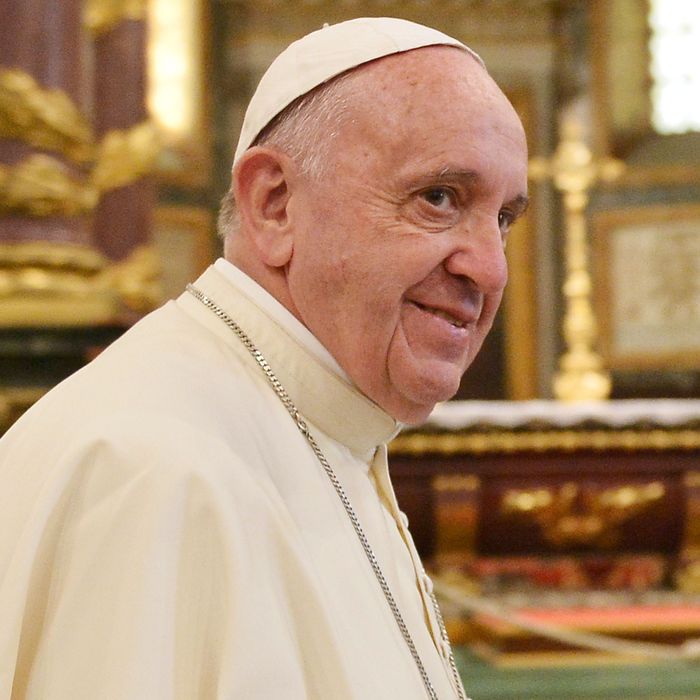 Rude.
Photo: TIZIANA FABI/AFP/Getty Images
Cool Pope Francis —  beauty-vlog advocate and normcore enthusiast — made a decidedly uncool move when he told Catholic nuns to lay off the tweeting. In a new church document titled Vultum Dei Quaerere ("Seeking the Face of God") that addresses "Women's Contemplative Life," Francis writes:
In our society, the digital culture has a decisive influence in shaping our thoughts and the way we relate to the world and, in particular, to other people. Contemplative communities are not immune from this cultural climate. Clearly, these media can prove helpful for formation and communication. At the same time, I urge a prudent discernment aimed at ensuring that they remain truly at the service of formation to contemplative life and necessary communication, and do not become occasions for wasting time or escaping from the demands of fraternal life in community. Nor should they prove harmful for your vocation or become an obstacle to your life wholly dedicated to contemplation.
Surely, everyone should be tweeting less (or not at all, really), but this is coming from a man with 9.6 million Twitter and 2.8 million Instagram followers. Either he's speaking from personal experience —  in which case, even the Pope gets distracted by Twitter, so go easy on yourself — or he doesn't want the nuns to be better at Twitter than he is.
As Broadly noted, some nuns have already responded to Francis's suggestions, with active Twitter user Sister Catherine Wybourne writing, "When it comes to wasting time online, I think we all know the difference between a creative use of the internet/Social Media and what I'd call sheer consumerism."
As of press time, nobody has yet to tweet "yas mom" at Sister Wybourne.