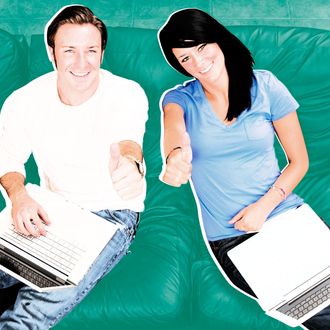 Photo: Ryan B. Stevenson/Getty Images
As of this writing, there are 183,727 "fapstronauts" subscribed to r/NoFap, a subreddit dedicated to not masturbating. The top two "hottest" posts are "Not fapping is the definitive confidence-booster" and "Pornography obstructs the ability to evolve into a deeper manhood." It dovetails with an argument that seems to always be bouncing around the internet and popular culture: that the human brain (normally male) can't handle the stimulation present in pornography, so it causes men to lose interest in IRL sex, resulting in "porn-induced erectile dysfunction." A study out last month found that people perceiving themselves to be addicted to porn predicted spiritual or religious struggle. Outgoing U.K. prime minister David Cameron called for an inquiry into porn in 2013. Trend stories in this very publication have lamented that "he's Just Not That Into Anyone," and "in the end, porn doesn't whet men's appetites—it turns them off the real thing."
Indeed, according to one 2007 survey, 70 percent of Americans think that pornography is harmful — an idea that resurfaced this week with a column in The Conversation lamenting porn's "artificial exaggeration of the environmental factors from which we have naturally evolved to become sexually aroused." Erotica — a 3,000-year-old pursuit — may be influencing relationships for the worse, the column argued.
And yet, as journalist Maria Konnikova has reported for Aeon, rigorous social-science research tells a very different story about what happens when people watch other people have sex. Admittedly, the research on porn is relatively sparse. Nicole Prause, the principal investigator at Liberos LLC, explained to Konnikova that the scientific community is "so scared of pornography and sexuality" that it's hard to conduct studies on the subject that are the most methodologically sound — either experimental (in a lab) or longitudinal (over a long period of time). But what is out there is largely sex positive.
In a 2015 study of 280 men in Idaho and New Mexico, Prause and a colleague found that viewing sexual stimuli didn't promote erectile dysfunction — in fact, it was associated with greater sexual sensitivity. The study authors first asked the men how regularly they viewed "visual sexual stimuli" at home, yielding three groups: guys who said they watched none of it, those who said they watched less than two hours a week, and those that said they watched more than two hours a week. In the lab, men watched short films portraying heterosexual sex; afterward, the participants who watched porn more frequently at home reported being the most aroused, and actually had higher desire for sex with a partner.
In a separate 2013 study, Prause, now the head of the independent Sexual Psychophysiology and Affective Neuroscience research lab and a co-author asked 44 monogamous heterosexual couples to watch sexual films, and also "exciting" nonsexual films and nature documentaries. They found that the couples that watched porn reported higher levels of sexual desire for a partner and had more positive evaluations of their own sexual behavior. Meanwhile, a 2012 review of the research on pornography use by adolescents found that "the aggregate literature has failed to indicate conclusive results" and that, contrary to popular perception, there's no solid evidence that porn leads to "permissive sexual attitudes, sexual preoccupation, and earlier sexual experimentation" among teens. Indeed, porn seems to have an educative quality: According to a 2015 study of German and Polish college students, pornography consumption was associated with a wider variety of sexual activities — think role-playing or sex toys — rather than more sexual partners.
But the hang-ups around viewing porn persist, and speak to larger issues America has about getting laid. While President Obama has thankfully cut funding for abstinence-only education, Just Say No to Sex is still a major part of American sex ed (maddeningly, a 2011 study found that "abstinence-only education as a state policy is ineffective in preventing teenage pregnancy and may actually be contributing to the high teenage pregnancy rates in the U.S."). In her Aeon piece, Konnikova reasoned that rather than learning about sex (and sexual pleasure, gasp!) in school, many young people learn about sex from porn (double gasp!). So it sure would be helpful if more kids in the U.S. were exposed to sex-positive sex education — the TED Talk "Unlocking the Door to Your Authentic Sexual Wellbeing" by Emily Nagoski, author of Come as You Are: The Surprising New Science that Will Transform Your Sex Life is a start. As one sex educator told Konnikova, a lot of it has to do with giving people permission to acknowledge that sexuality is important — to tell them that their desires are valid, and that they're not, as the educator put it, an "evil, weird creature" if they enjoy sex. Or, to that end, porn.