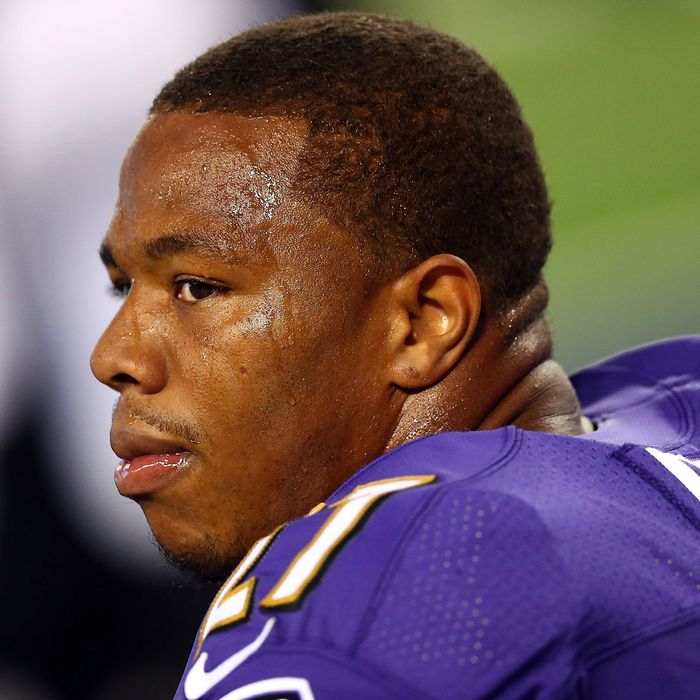 Ray Rice.
Photo: Ronald Martinez/Getty Images
At 27, time is running out for Ray Rice to revive his career in the NFL after the domestic-abuse scandal that effectively halted his trajectory in football.
Now, the former running back for the Baltimore Ravens says he wants to do right and has vowed to donate the earnings from his salary in the NFL to charities and organizations focused on preventing domestic violence and supporting victims.
In an interview with USA Today, Rice said the national scrutiny he received has been well-deserved.
"The only way to fix the problem is awareness," Rice told USA Today. "It's an epidemic. I know that my situation raised awareness. I'm not thankful for being that guy, but I'm thankful for the people that now are not afraid to ask for help, because I had to go get the help myself after to realize the severity of what domestic violence is."
Rice has been out of a job since 2014 when he was suspended from the NFL after a video surfaced showing him punching his then-fiancée in an elevator. While his suspension was eventually overturned, Rice has yet to be signed on to a new team.
If Rice was signed again to a team, though, the minimum salary he's entitled to is $885,000, according to USA Today. A salary at that level would be paltry, compared to his previous earnings; his last contract paid him $25 million over the course of two years. Still, a minimum donation in the six figures would remain a sizable one that would likely be readily accepted by organizations that badly need the funds.

After the media blitz surrounding Rice in 2014, the NFL also vowed to dedicate resources to organizations focused on the prevention and education of domestic violence. To date, the NFL has focused primarily on working with organizations at the national level. Many local centers providing direct support to domestic violence and sexual-assault victims still struggle, though, to maintain their services, according to an analysis by Think Progress.
Rice faces other obstacles in getting back on a team besides bringing potential negative publicity. In the NFL, there's no shortage of other running backs who come with less baggage.