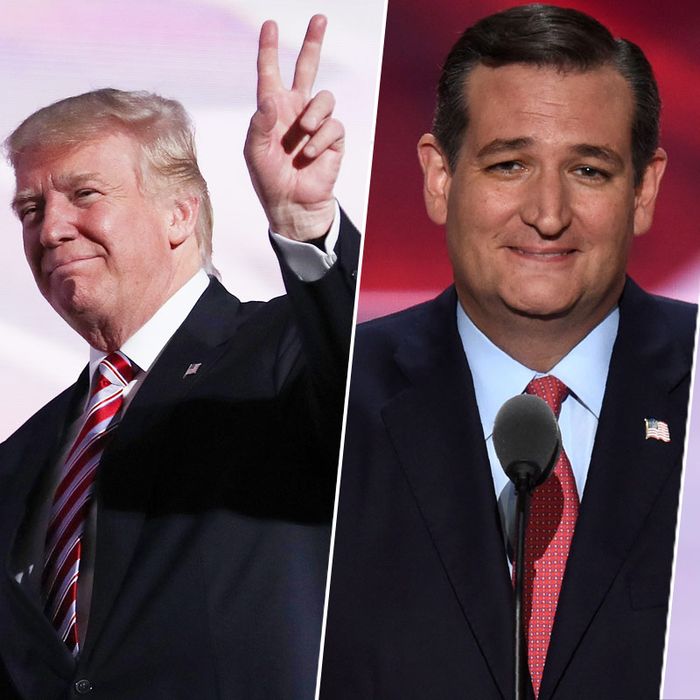 Countess Donald, Lyin' Ted, and Lauraaaa
Photo: Getty Images
Ladies, refill your goblets of Pinot Grigio now because this season of the Real Housewives of the Republican National Convention is by far the most drama-filled yet.

As of Wednesday evening, we were three days into the Housewives' tropical getaway to Cleveland. Things were on thin ice before they arrived — Countess Donald was hosting, and most of the group didn't even feel like attending after all of the shit he'd been saying about them over the past year. But a vacation is a vacation, even if Donald Trump was going to be making it about himself the entire time.
The trip had been running smoothly so far — they met Donald's family and ate dinner with Lou Holtz and his favorite vaping psychic, and Paul Ryan hadn't even brought up his SkinnyBoi margarita line once. By the time day three rolled around, even Ted Cruz seemed like he was enjoying himself, though it's sometimes hard to tell due to his resting shart face. (Remember last season when he tried to convince everyone else that was a real medical condition?)
After a bunch of randos took the stage (Bravo cut for time), Laura Ingraham took a moment to bask in the spotlight. For those of us who'd been watching the series from the beginning, it was kind of a bummer that they decided to replace Ann Coulter with Ingraham, as if the audience can't tell hateful skinny blonde women apart (we can't). Ingraham may not have been on the show for long, but she's already proved she can throw down like the rest of them, from calling Cruz and Marco Rubio "boys with wounded feelings and bruised egos" to using a particularly controversial hand gesture.
Speaking of Rubio, he sadly couldn't make it on this trip because he very conveniently booked a four-day spa stay and cleanse for the exact same time back in March (you know how he loves his seaweed body wraps). Still, he made the effort to beam in a video message endorsing Trump, showing how far they've come since Rubio made fun of his small hands.

But while Rubio has been all about playing nice this season, Cruz had something far snarkier waiting. He took the stage and refused to say one good thing about Trump, instead urging Republicans to "vote their consciences." The crowd's booing only made him stronger because if one thing is certain it's that Ted Cruz is a messy bitch who lives for drama.

In fact, Cruz's speech stirred the pot so much that nobody could even muster up the strength to care about what regular series guest Newt Gingrich and boring newcomer Mike Pence had to say. The geniuses at Bravo have truly outdone themselves with this one. 
Tune in tonight to see Jerry Falwell Jr. and Ivanka Trump duke it out when they realize they're both wearing the same outfit.