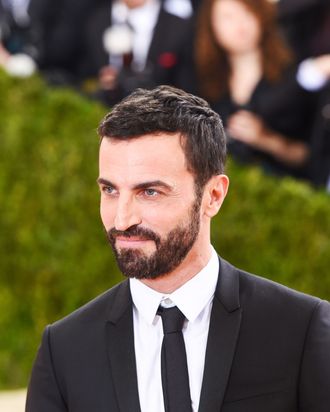 Nicolas Ghesquière could soon leave Louis Vuitton.
Photo: Billy Farrell/BFA
The latest rumor in a summer of designer comings and goings comes from Louis Vuitton, LMVH's prize label and biggest profit driver. Reuters reports that Louis Vuitton designer Nicolas Ghesquière could leave the brand "as early as after the October collection," according to a source. Designer Jonathan Anderson of JW Anderson and Loewe is allegedly being eyed as a replacement, or so claims a second source.
Further speculation about the reason for the upheaval come from, yes, yet more sources. Some say that Ghesquière's ready-to-wear designs have not been a commercial hit. Also, in June, when asked about whether he would want to create his own label, he told French TV channel Canal Plus, "I would like to do it soon, very soon. I don't have a date but I will come back and tell you when I do."
Then there's a tale of love. "[Bernard] Arnault, [CEO of LVMH], is very fond of Anderson, everybody knows he adores him," another source said.
Only time will tell as to the credibility of all these sources.
UPDATE:
WWD received comment from LVMH and it sounds like Ghesquiere is staying put. The designer has two more years on his contract and they're strongly denying the rumors.