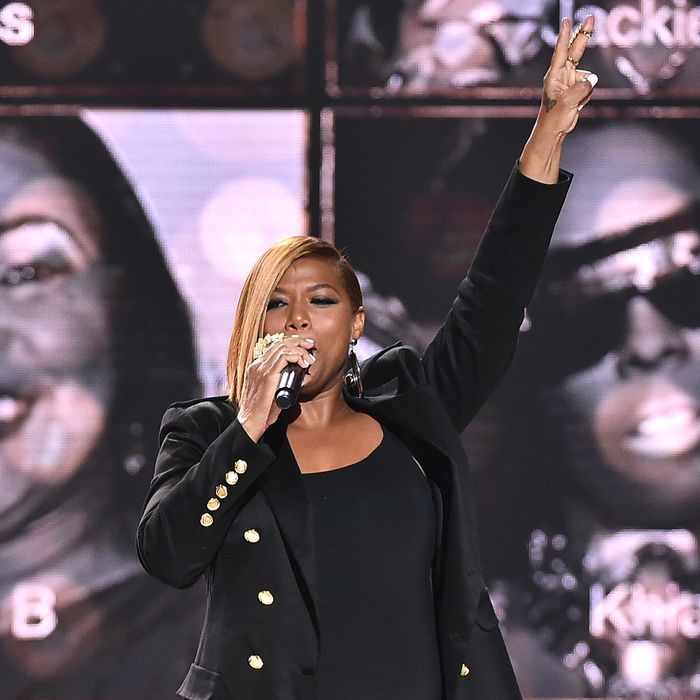 Photo: Theo Wargo/Getty Images
Last night VH1's Hip-Hop Honors returned to Lincoln Center in Manhattan. The show — once annual but bafflingly absent since 2010 — commemorates its honorees' contribution to hip-hop culture through speeches and performances from peers, successors, and, on occasion, the legends themselves. The show, subtitled "All Hail the Queens," celebrated women in rap across four very different eras: Salt-N-Pepa busted up rap's boys' club in the mid-'80s with the left-field radio smash "Push It" and powered through to the '90s on a crucial message of sex-positivity and AIDS awareness. Queen Latifah came up in the late '80s alongside popular tri-state-area groups Naughty by Nature and A Tribe Called Quest on a platform of women's empowerment and made a precarious pivot into film and television, which went on to net her wins and nominations at the Emmys, Golden Globes, and Academy Awards. Lil' Kim blew up in Sean "Puffy" Combs's Bad Boy Records collective as a chart-topping style icon and a powerful feminine rejoinder to the crass, moneyed jiggy rap of New York's mid-to-late-'90s. Concurrently, Missy added body-positivity, strong rap and R&B songwriting sensibilities, and a genius eye for game-changing music videos to the fray and enjoyed a hot streak stretching out into the mid-'00s.
Separate medleys of Missy's rap and R&B hits for herself and others showcased her versatility and vulnerability, but the show burned out much of its star power on these, amid appearances from rappers Eve, Trina, and Remy Ma and singers Nelly Furtado, Monica, Fantasia Barrino, and Tweet. Salt-N-Pepa's tribute was flubbed by Amber Rose, whose bad karaoke rendition of "Let's Talk About Sex" was a low point, and '00s R&B dynamo Ashanti, who just couldn't hit all the notes on "Whatta Man." Queen Latifah's best tribute was a medley of her hits that she performed herself, a rarity at a point in her career where acting and singing have carried her away from rap. New York upstarts Lil Mama and Teyana Taylor retraced classic Lil' Kim routines with a knowing accuracy, but Kim was better served in a runway show of her most seminal outfits and a lengthy tandem speech from Puff and Kim where the mutual admiration and egotism that powered the Bad Boy machine in its heyday proved itself timeless.
Throughout the evening Hip-Hop Honors illuminated not just the singular style and craft of its dais of honorees but also the enduring difficulty for women to achieve and sustain success in the field. The relative absence of women who have logged a hit in the last five years (bless Remy, whose "All the Way Up" shows up at New York hip-hop functions as often as the national anthem at baseball games) underscored a few unfortunate truths about the state of sexism in modern rap. The rap charts were not kind to women after the mid-'00s twilight of Kim, Missy, and Eve. Nicki Minaj is their sole 2010s torchbearer in part because of a vibe in hip-hop culture that there can only be one reigning female rap artist at a time, a climate that has sent other contenders like Iggy Azalea and Azealia Banks into squabbles amongst themselves that have hurt their careers. Nicki is not excluded from it: Her chart hits "Stupid Hoe" and "Roman's Revenge" are widely believed to be directed at Lil' Kim. Kim, for her part, took time out of her Honors speech to declare herself "the only Queen Bee," a needless dig at "Queen Bey," Beyoncé.
In lauding the struggles of women who fought for relevance in a field of men in the '80s and '90s with performances from a newer class of artists still doing much of the same, this year's VH1 Hip-Hop Honors trained a spotlight on the enduring obstacles faced by women who rap. The genre doesn't lack the talent; it never has. Like the rest of the world, it exacts more from women and expects less of men. It would've been nice to see the show speak more directly to this continuing disparity, as many of the night's speakers did in calling for racial unity after the string of fatal shootings of police and civilians that rocked the nation last week, but for today, the show's noble imperative to honor rap's queens will have to suffice.
Below you'll find video of a few of the night's key performances and a bit of the opening keynote from Black Lives Matter's Alicia Garza and Darnell Moore.