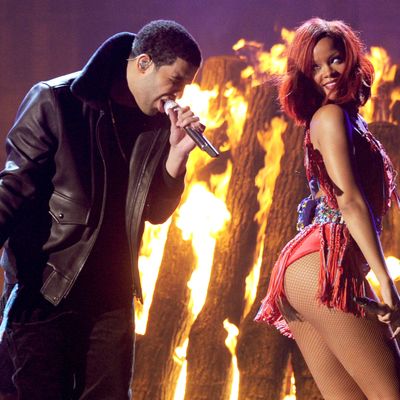 Rihanna, space witch extraordinaire, and beloved Canadian rapper Drake have been spotted coming and going from the same clubs in London for the past few nights, which is giving rise to speculation that they're dating. Or they're dating again. Maybe this is "just for fun"? Experts have been puzzling over their body language and poring over hidden clues embedded in their songs for what seems like years, and we're no closer to the truth.
However, E! News seems fairly confident that Drake and Rihanna are dating. On Friday, a source said, "He still loves her and never stopped. Rihanna is the one that's been not wanting to settle down in the past. They are having fun spending time with each other. Their music together got them close again."
This rumor has surfaced before, most recently in May, but in March she publicly rebuffed Aubrey as he went in for an on-stage smooch. What we do know is that Drake made a surprise appearing during Rihanna's show in Manchester Sunday, and that he had a lot of nice things to say about his "Work" collaborator. One fast-acting fan captured video of Drake declaring to the audience, "Shout out to the most beautiful, talented woman I've ever seen. She goes by the name of Rihanna … I'm gettin' my heart broken." Or that's what it sounds like he's saying. Maybe he's saying he's getting a hug? Everyone likes hugs, so that's cool. Rihanna probably gives great hugs.
Is this ingenious viral marketing for Rihanna's Anti world tour? Or is it just the truth of two pop stars — one a sensitive dude in dad sweaters, the other a powerful Bene Gesserit with a taste for pasta — who can no longer deny their feelings for each other?