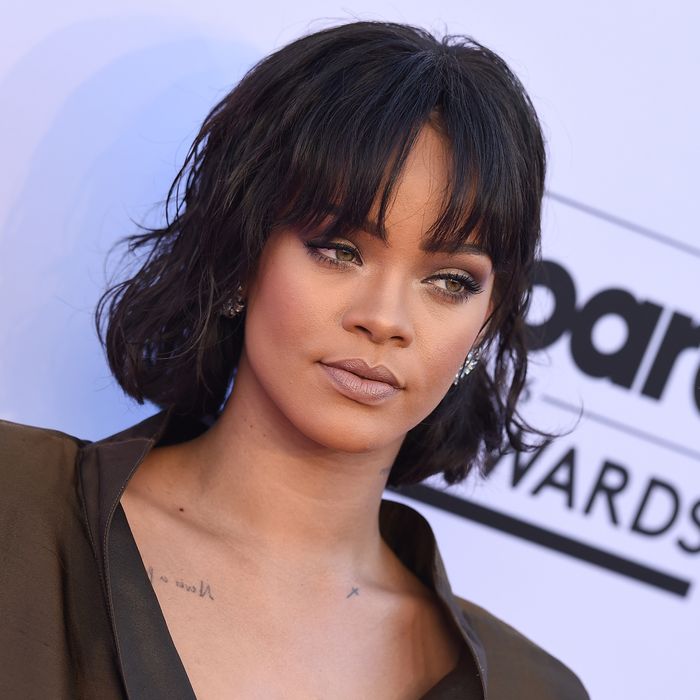 Photo: Axelle/Bauer-Griffin/FilmMagic
It's entirely possible for famous folks to enjoy San Diego Comic-Con from the floor itself, traveling incognito in a world where cosplay is par for the course, but how many superstars can brag they went to SDCC without even stepping foot in the United States?
Rihanna is on her Anti World Tour, but that hasn't stopped her from popping up all over the convention. She appeared in a tantalizing clip from Luc Besson's sprawling sci-fi flick Valerian, which stars Dane DeHaan and Cara Delevingne; it's not entirely clear what Rihanna's role is, but it does involve a sexy, outer space, Cabaret-type performance. DeHaan's description made it sound like Rihanna has more to do than a quick interstellar strip-down, so here's hoping.
Then she made a very special appearance at the panel for Bates Motel, the Psycho TV prequel with Vera Farmiga and Freddie Highmore, announcing her very special upcoming role in true Bad Girl RiRi style.
Rihanna will be playing the iconic Marion Crane, the role made famous by Janet Leigh, in the upcoming fifth (and last) season of the show. Exec producer Carlton Cuse promised, "We are going to meet Marion Crane, but what we don't want to do is create the impression that we're redoing the movie, because we're not at all." Of course, it's not clear how much time Marion will spend at the Bates Motel before meeting her untimely death at the hands of Norman, but either way, Rihanna will make the most of her visit.
And, of course, there's her song "Sledgehammer" for Star Trek Beyond — the latest movie in the beloved series kicked off the convention with its world premiere last Wednesday. Whew!