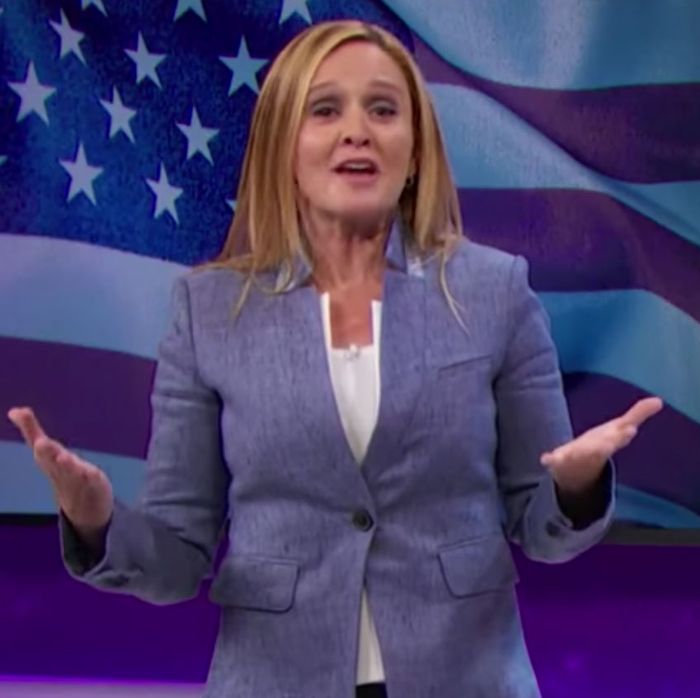 Samantha Bee is glad to see Roger Ailes go.
After decades as the CEO of Fox News, Roger Ailes is finally out. His downfall came thanks to a sexual-harassment lawsuit filed by Fox anchor Gretchen Carlson and echoed by several other female employees at the station, including Megyn Kelly. And no one is more excited to see him go than Samantha Bee.
On last night's episode of Full Frontal, Bee celebrated Ailes's demise by recognizing all he's accomplished through Fox, otherwise known as: "His masterpiece — a right-wing nightmare factory powered by white resentment and relentless misinformation, churning out propaganda 24/7 and making family Thanksgivings unbearable for 20 years."
She went on, "Fox News is the only 24-hour news network to feature a strategically placed leg cam to showcase the most qualified body parts of its female contributors, plus a daily women's show trading on the titillating tension between owning a harem and fear of emasculation. So yeah, turns out the guy who runs that network is kind of a creep. Who would've guessed?"
He also happens to be a longtime friend of Donald Trump's. Again, who would've guessed?