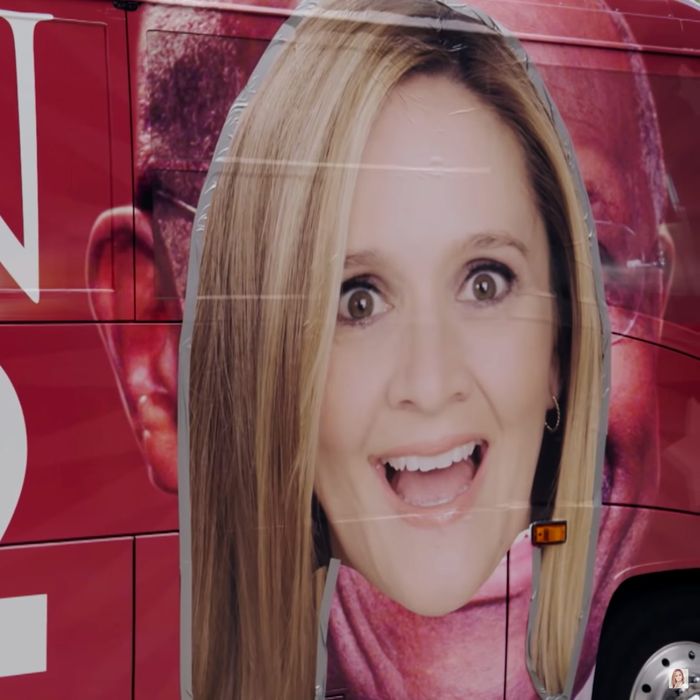 Samantha Bee on Full Frontal.
On last night's very special Full Frontal episode, Emmy winner in our hearts Samantha Bee still hadn't quite made it to the RNC's "Conservachella" extravaganza. Instead, Bee and her team arrived in Pennsylvania, where they hopped off their retooled Herman Cain campaign bus to interview voters in the battleground state. Bee has always excelled at field segments and interview pieces, and the episode was a fascinating look into the sometimes-terrifying minds of Keystone voters.
In this first segment, Sam interviews voters at the country's oldest gas station, while her friend Alana chats with Trump diehards at the Mason Dixon County Fair, including a young female car mechanic who faces sexism at work but says "we don't need a woman as a president" because "we're too dramatic!"
We also get a character sketch of two hopeless yet principled delegates: a gun-happy evangelical school teacher voting for Ted Cruz, and a classical singer, environmentalist, and Bernie supporter "who holds aloft a symbol of the fragile earth and sings in the African Yoruba language." We're not sure where Sam found these people, but we're glad she did.
Bee then interviews Pennsylvania Republican representative Jim Christiana, who nobly struggles to utter Trump's name, and closes things out with a pep talk from her bus driver, Scandal's Tony Goldwyn. ("The Samantha Bee I know eviscerates, she slays, she destroys, she murders," intones President Fitz. "She doesn't cower. She doesn't ask for the power, she takes the power.")
Consider this our petition for a Samantha-Fitz buddy road-trip comedy.