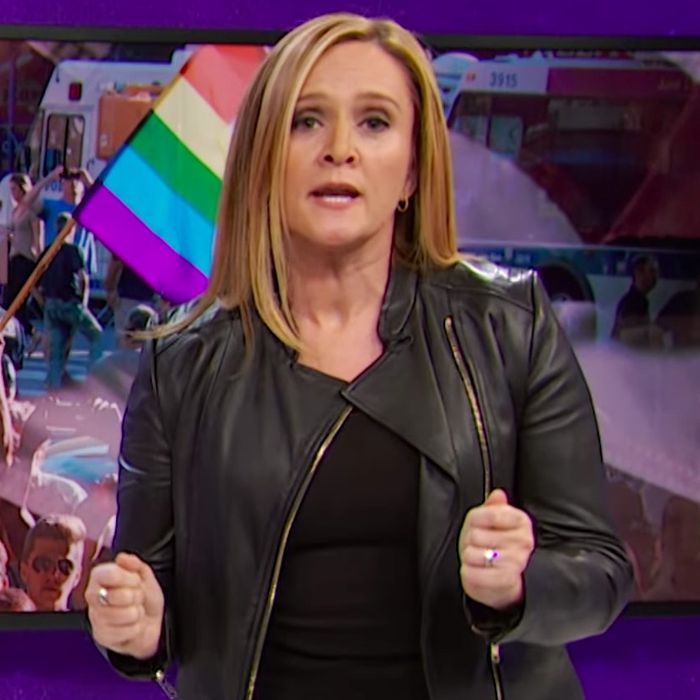 Samantha Bee was not nominated for best variety talk show at the Emmys this morning, with the television academy choosing instead to honor groundbreaking automobile-themed programming like Comedians in Cars Getting Coffee and James Corden's Carpool Karaoke Jamboree. (Full Frontal did get nominated for best writing on a variety series, which is a small consolation.) Emmy voters have notoriously arbitrary and fickle tastes, but, still, this snub really stings. 
Bee — who is currently lapping Trevor Noah's Daily Show in the ratings department after being snubbed for his hosting job — has consistently been wiping the floor with her male counterparts while churning out the sharpest political satire in late night. She's also the only woman in late night, with one of TV's most diverse and talented writers' rooms. But hey, singing in cars! 
When she managed to make an analogy between Marie Kondo and rape kits ("Does this rape kit spark joy?"):
Her evocative, Werner Herzog–inspired ode to Jeb!'s campaign:
Her musical eulogy for Ted Cruz:
Her comprehensive nine-minute history lesson explaining Trump's appeal to the religious right, and how the GOP platform "came to read like a Baptist dream journal":
Her words to those opposed to putting Harriet Tubman on the $20 bill, a.k.a. "the assholes complaining that seeing the un-Botoxed face of an American hero as they stuff their wages into a stripper's G-string will instantly melt their tiny thumb-sized boners." 
It's okay, though. We can always Photoshop her into the winner's picture.