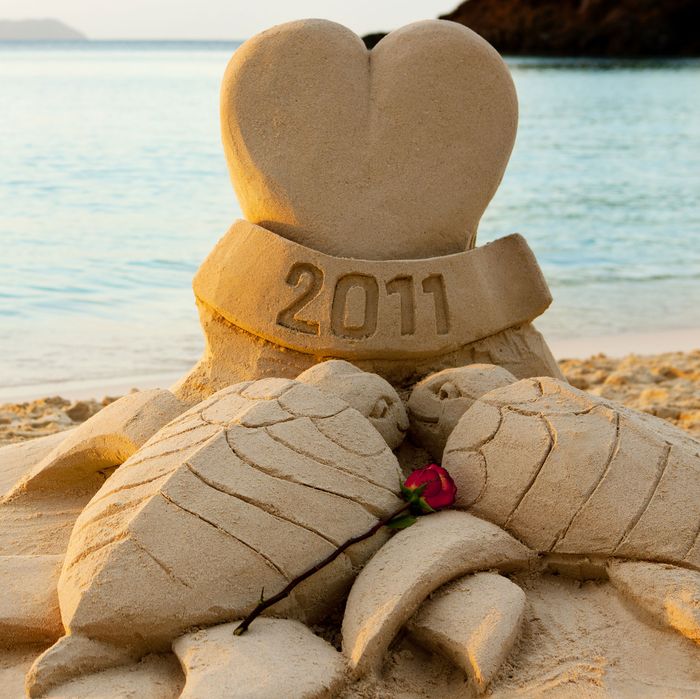 True love in sand.
Photo: Christian Wheatley/Getty Images
In terms of necessary accoutrements one needs at a wedding, there are certain definitive staples: nice flowers, good food, lots of alcohol, and a DJ with a hairstyle from the late '80s. "But what about the sand sculpture?" you might ask. No, you don't need a sand sculpture. "But we want one," you say. Fine, it's your funeral. I mean, wedding. Do whatever you want.
The New York Times writes of a new trend popping up at beach weddings, an otherwise perfect location to get married: pricey sculptures made of sand that inevitably get lost to the — ahem — sands of time. Want a perfect metaphor for the impermanence of monogamous romantic relationships? Get a sand sculpture, a very expensive one:
At the Ritz-Carlton resorts in Naples, Fla., designs start at $2,000. Planning takes place over several weeks to ensure the couple's vision has been captured correctly. (At the Ritz's golf resort, a few miles from the beach, the sculptures can be done in the course's bunkers.)

"Years ago we used to do two or three a year, now we do up to 10," said Lydia Redmond, senior sales manager for weddings at the hotel. "Sand marks a special childhood memory for most. Sculptures capture that personal relationship."
Nick Wagner, director of "guest experiences" at the Marco Island Marriott, told the Times that people are really loving sand sculptures at weddings: "Sand is a new element that offers a memory and a surprise moment. People are mesmerized that something from the beach is converted into a piece of art. Then the ocean reclaims it."
Who will be the first drunk wedding guest to knock one of these $1,000 sculptures over?