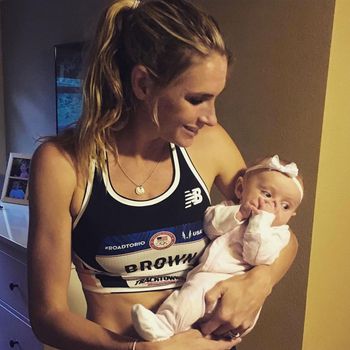 Sarah Brown with daughter Abigail.
Photo: sarahmb15/Instagram
Sarah Brown, the pro runner who gave birth in March, did not advance to the semifinals of her event at the U.S. Olympic Track & Field Trials last night. 
Brown ran with the pack in the 1,500 meters until the final lap, but then fell off the pace. She finished last in her heat — which ended up being the fastest of the three — with a time of 4:24.97. The top six in each heat and the next six fastest times moved on to the semis. Brown was the first non-qualifier; the last woman to advance ran a 4:23.80.
In an interview with LetsRun immediately after the race, Brown said she was glad she persevered in her training and entered the race. "It didn't work out today but I needed to get back out there, so for me it was a win to just put myself on the line," she said. "You gotta start somewhere.
"It didn't turn out like the fairy-tale story but sometimes it's not about that."
In a Facebook post, her husband (and coach) Darren Brown said he was lucky to call Sarah his wife and that her strength "is beyond [his] comprehension." He continued:
With a lap to go, things got tough. I could tell something wasn't right. Her stride sank, but her fight didn't. Even as she began to struggle, she never stopped fighting. Not until she crossed that finish line.
Brown shared a photo of her and Abigail postrace, writing:
Today wasn't the fairytale ending you dream about. But then again, this journey never really was about an ending, it's a beginning. A new chapter as a family of three.
Thanks for all the support ❤️ & you can bet you will continue to see this mama run
#runmamarun
Run on, Sarah.