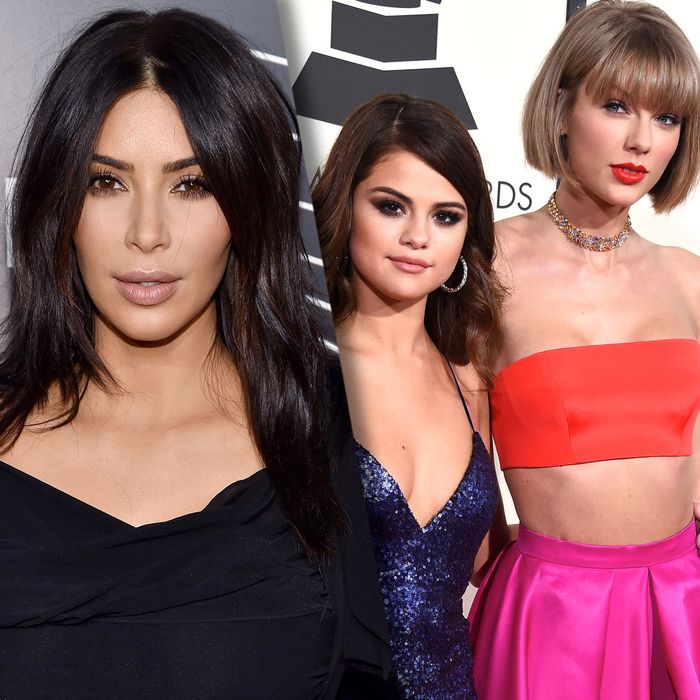 "Bad Blood, pt. 2."
Photo: Getty Images
For the ancient Greeks there was the Trojan War. For Twitter users, there is the great feud between Taylor Swift and Kanye West. Another chapter began anew Sunday night when brave Kim Kardashian posted a Snapchat video of haughty Taylor Swift giving her approval for noble Kanye West to reference Swift in his song "Famous," including the line, "I think me and Taylor might still have sex." Swift quickly retaliated with a message from her Notes app in which she made a very fine, lawyery distinction that she did not approve of the line "that bitch" and that all of this was "character assassination." But Taylor is not alone in this fight: Like Patroclus taking up Achilles's armor, so too did Selena Gomez come to her BFF's defense Sunday night, subtweeting Kim:
But woe is Selena! Her aim was shaky. The foot soldiers gnashed their teeth and stomped their spears, and directed their gaze towards her. They pointed out a number of things, such as the fact that Kim Kardashian has spoken out about the Armenian genocide and most recently gave her support to the Black Lives Matter movement after the police shootings of Alton Sterling and Philando Castile. Then, they did the most damning thing of all, which was point out Gomez's own refusal to speak on the matter:
Instead of allowing her own minions to fight her battle, Selena descended into the melee herself, tweeting the following response. She quickly deleted that tweet, but as our soldiers have learned from their general: Always keep the receipts!
Next, we will tell the tale of Katy Perry.