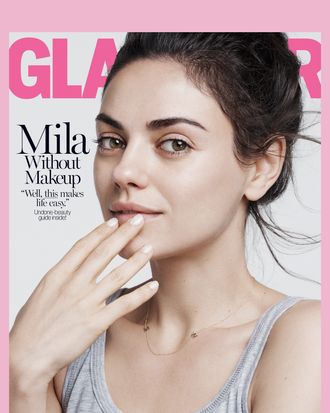 According to WWD, Glamour magazine has let go of a "handful" of staffers, including John Dioso, the executive director of editorial operations, who'd only been there since January. Other casualties include a senior fashion news editor, photo editors, and copy editors. WWD reports rumors that Jane Keltner de Valle will now run both the print and digital fashion news teams, but it's not officially confirmed.
This news comes after a shakeup last year in which Self and Glamour combined on the business side, creating an advertising hub for both publications under one roof. The brands will now be sharing a social-media team led by new associate social-media director Kenny Thapoung, as well as operations, copy, and other back-end processes. And editors on both teams will be expected to work "across platforms," bringing print and digital closer together.
What will the new Glamour look like? A memo to staff from editor-in-chief Cindi Leive states, "Our mission here is to create a thriving modern media brand that redefines what fulfillment means to American women. Today we announced a reorganization that will streamline the brand through a more forward-thinking structure — one that will give everyone on our staff the opportunity to succeed in our new media landscape."
WWD notes that there was only one layoff at Self during this restructuring, but with so much change, it's hard not to speculate how Self will further merge with Glamour in the months to come.