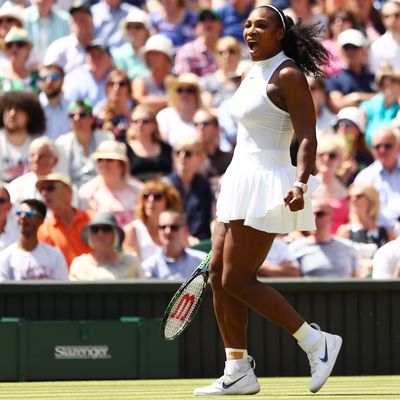 Serena Wiliams.
Photo: Julian Finney/Getty Images
Serena Williams defeated Elena Vesnina in the Wimbledon semifinal on Thursday, advancing to Saturday's final, and she had some particularly quotable things to say at her post-match press conference.
One reporter asked Williams, "There will be talk about you going down as one of the greatest female athletes of all time. What do you think when you hear someone talk like that?" Williams responded, "I prefer the words 'one of the greatest athletes of all time.'"
And when she was asked about her frequent calls for equal pay and equal treatment between women's and men's sports, Williams made the point that she would like to "see people, the public, the press, other athletes in general, just realize and respect women for who they are and what we are and what we do."
Good luck on Saturday, Serena. No pressure!