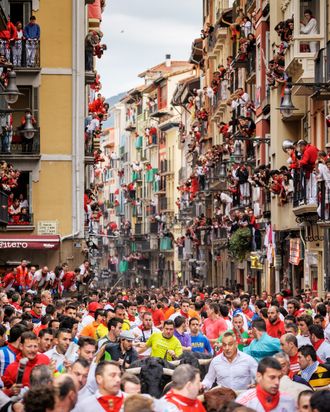 Scene from the festival of San Fermín
Photo: Michael C. Snell/Getty Images
Every year in early July, thousands of people flock to the city of Pamplona, Spain, for the week-long festival of San Fermín. The festival's main attraction — which was popularized by esteemed bro Ernest Hemingway's novel The Sun Also Rises — is the infamous running of the bulls, in which humans and bulls run side-by-side and (shocker) many humans are subsequently gored. But underneath the spectacle and revelry is a dark undercurrent of sexual violence.
Since the start of this year's festivities on July 6, 15 people have been arrested due to allegations of sexual assault — including one of a gang rape that reportedly involved five men and was filmed by the attackers. As The Guardian points out, women's groups have been criticizing the festival for this issue for years.
But this year, protesters have responded to the issues en masse: On Monday night, thousands took to the streets and interrupted the festival holding signs that read "no means no."
Pamplona mayor Joseba Asirón told reporters that the high number of reported sexual assaults doesn't necessarily mean that more are actually happening as compared to previous years. "The real difference with other years isn't that such things are happening but that they are finally getting denounced. What is coming to light isn't just the tip of the iceberg, but the dimension of the problem," he said.
Additionally, in a statement, Aritz Romeo, the city councilor for public safety, said the city is working to address the issue and "eliminate sexist attacks and to improve safety for women wherever they are."
Here's hoping that actually happens.