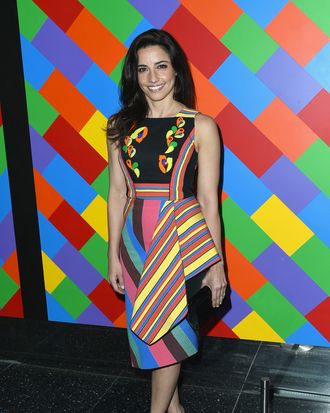 Photo: Andrew H. Walker/Getty Images
It's the kind of horror story that — if you had $1.5 million in treasured jewelry stowed away in your home — keeps you up at nght.
Designer Shoshanna Lonstein Gruss, who once upon a time dated Jerry Seinfield in the '90s when she was still a teen (!), was off enjoying a lovely holiday vacation with her family.
Unfortunately for her, she came home to find her place was broken into and more than 300 pieces of jewelry were gone.
Gruss told police that her home on East 61st Street must have been broken into while she was away in Montauk, Long Island, between June 25 and July 19, according to the New York Post. The thieves apparently also took a handful of passports and Social Security cards.
A door on the roof of the building was also broken and was likely the source of entry, sources told the Post.
Gruss had been documenting her vacation on Instagram and sharing photos of her and her family while away. We can only hope that doing so didn't help the burglars know she would be gone.
Suspicions of a new Bling Ring have already sprung up in California, where a number of celebrities have recently been burglarized while away from home.