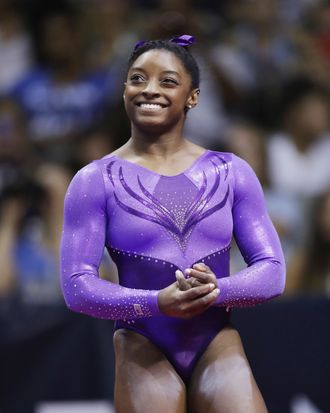 Simone Biles at the U.S. Olympic Gymnastics Trials on July 8.
Photo: Ronald Martinez/Getty Images
On Sunday night, 19-year-old Simone Biles jumped, spun, and flipped her way to victory in her first Olympic trials, earning a ticket to Rio next month. The four-foot-nine gymnast was the overwhelming favorite to win — as has been the case at practically every meet since 2013; she's won four consecutive national championships and three consecutive world championships — and she's predicted to win the Olympic all-around title too. But Biles isn't one to get ahead of herself.
Consider the journal where she's written down her goals for 2016. Earlier this year, she showed a New York Times reporter the list, on which the last goal listed was to make the Olympic team. When her mom, Nellie, asked if she was thinking past that (to gold medals, perhaps), Simone responded she'd update the list if she needed to.  
You might assume an update was in order after her dominant performance at trials, but Biles still wasn't ready to add to the journal when she spoke to the Cut on Monday. There was the small fact that the physical book was at home in Houston while she was still in San Jose, but she also claimed not to know what she would write. "I haven't had time to think what I'm going to add to it, so we will see," she said.
Writers and commentators are already saying that this team could become the first U.S. women's gymnastics squad to win back-to-back golds and that Biles could win five or even six medals. But Biles works best when she tunes all this stuff out. "I have certain expectations for myself and for the team. Most of the pressure comes from media outlets," she says. "Other than that we're pretty good at just blocking it out and doing what we need to do. We're the only ones that can control it once we step out on to the floor and compete."
She's been swatting away others' expectations for most of her life, including when she was teased for being a ripped tween. "I always hid it with a jacket, I was always wearing a jacket," she said of her defined muscles. "Once I started going to the gym more, I realized that … it wasn't weird. I have these muscles because I do the sport that I do."
People's reactions have changed over the past few years, which Biles credits to an appreciation of stronger bodies. It's no longer "weird" for girls to have muscles, she says. "Now people are like 'do you lift? Are you a gymnast? You have a good body.' People just appreciate it more, and we're just a little bit more confident as we get older."
Biles appears in a new campaign for Tide Pods alongside gymnastics legends Nadia Comaneci and Dominique Dawes that shows how the sport has progressed to reward power as well as elegance. Powerful is a word often used to describe both Biles's frame and her gymnastics routines, but she thinks the definition is more nuanced than someone simply muscling their way through a routine.
"To me, powerful could be anything between consistency or confidence. Most people think you need to be powerful to tumble, but I still think you can have a powerful spirit and you can have powerful confidence and if it shows within your routine then I think that's powerful enough," she says. "It doesn't always have to be how high you go on vault or how high you tumble."
We have to say, though, her tumbling passes really are pretty high-flying.