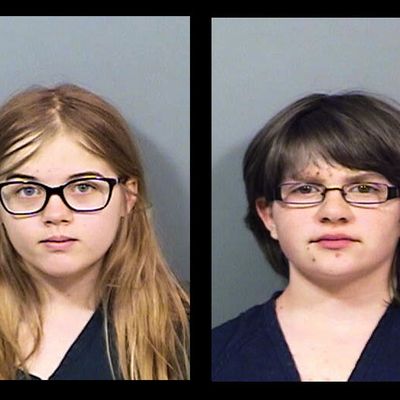 Morgan Geyser and Anissa Weier are charged with trying to kill their friend for Slender Man.
Photo: Courtesy of the Waukesha Police Department
Two Wisconsin girls charged with attempting to kill their friend for Slender Man, a terrifying internet character, should be tried as adults, a state appeals court ruled Wednesday. If convicted as adults for the May 2014 attack, Anissa Weier and Morgan Geyser, who are both now 14, could go to prison for up to 65 years.
The girls are accused of luring a then-sixth-grade classmate into a wooded park and stabbing her 19 times with a knife to impress Slender Man — an internet meme known in internet subcultures, fanfiction, video games, and elsewhere for stalking and torturing humans, especially children. The Slender Man is tall, thin, faceless, and always in a black suit.
All three girls were 12 years old at the time of the attack. Weier and Geyser are charged with stabbing their friend after a sleepover in Waukesha, Wisconsin, a suburb about 20 miles west of Milwaukee. Deserted, the girl crawled to a road and was discovered by a cyclist. When police found Weier and Geyser on the city's outskirts that day, they said they were on a 300-mile trek to Slender Man's mansion in an upstate national forest, where they would live as his servants. The victim recovered and (amazingly) returned to school three months later.
Weier and Geyser have been in custody since they were charged. In Wisconsin, anyone 10 or older is considered an adult when facing first-degree attempted homicide charges, but the girls' defense attorneys argued they should be tried in juvenile court, saying each suffered from mental illness and wouldn't be properly cared for in adult prison.
The appeals court disagreed, saying if the girls were found guilty in juvenile court they would be released at age 18 with no supervision or mental health care. It also cited evidence showing the nature of the attempted murder (violent and planned for months) made trying the case in juvenile court inappropriate. If convicted as juveniles, they could face prison time until age 25.
The girls can reportedly appeal to the Wisconsin Supreme Court. A status conference is scheduled for August 19. Meanwhile, this original image of Slender Man will haunt you forever: