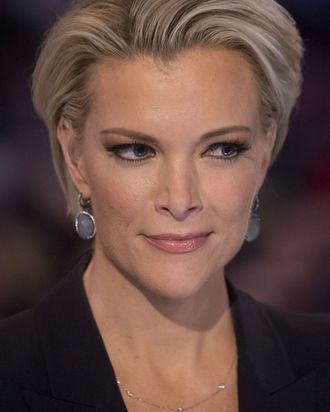 Fox News host Megyn Kelly.
Photo: Bloomberg/Getty Images
As a chorus of prominent Fox News women have gone public defending Roger Ailes against the wave of sexual-harassment allegations sparked by former Fox News host Gretchen Carlson's lawsuit, the network's biggest star, Megyn Kelly, has been conspicuously silent. Kelly's refusal to join in Ailes's orchestrated defense has led to speculation about why.
Now we have the answer. According to two sources briefed on parent company 21st Century Fox's outside probe of the Fox News executive, led by New York–based law firm Paul, Weiss, Kelly has told investigators that Ailes made unwanted sexual advances toward her about ten years ago when she was a young correspondent at Fox. Kelly, according to the sources, has described her harassment by Ailes in detail.
Kelly's comments to investigators might explain why the Murdochs are moving so quickly to oust Ailes. As New York reported yesterday, Rupert and sons James and Lachlan, the three top executives at 21st Century Fox, have, according to multiple sources, decided that Ailes needs to be removed. Kelly, who has become something of a feminist icon thanks to her tangles with GOP nominee Donald Trump, is seen by many inside Fox as the future of the network. She's currently in contract negotiations, and given that Bill O'Reilly has said he's considering retirement, Fox can't afford to lose her.
According to two sources, Monday afternoon lawyers for 21st Century Fox gave Ailes a deadline of August 1 to resign or face being fired for cause. Ailes's legal team — which now includes Susan Estrich, former campaign manager for Michael Dukakis — has yet to respond to the offer. Ailes has also received advice on strategy from Donald Trump and Rudy Giuliani, sources say.
Ailes's strategy so far has included attacking Kelly in the press. According to sources, Ailes spokesperson Irena Briganti has been criticizing Kelly to reporters, saying she is selfish to not stand up for the man who gave her career opportunities. Roughly a dozen Fox women have praised Ailes since Carlson filed her suit. According to a Fox source, the pro-Ailes campaign has been led by Fox anchor Kimberly Guilfoyle, who has filled in hosting Carlson's former 2 p.m. time slot.
Briganti did not respond to a request for comment.
Back in the mid-2000s, when Ailes allegedly harassed her, Kelly, a former corporate attorney, was a legal correspondent in Fox's Washington bureau. Soon she was appearing regularly on Bill O'Reilly's show and hosting her own legal segments. In 2010, Ailes gave her a two-hour daytime show, and in 2013, he moved her into prime time to replace Sean Hannity at 9 p.m.
Kelly's agent Matthew DelPiano at CAA did not respond to requests for comment. 21st Century Fox did not comment.
Meanwhile, the Paul, Weiss lawyers are attempting to interview former Fox employees who have stories of harassment but haven't spoken because they signed settlements with Ailes's Fox attorney, Dianne Brandi. 21st Century Fox is now waiving the NDAs to allow women to speak.