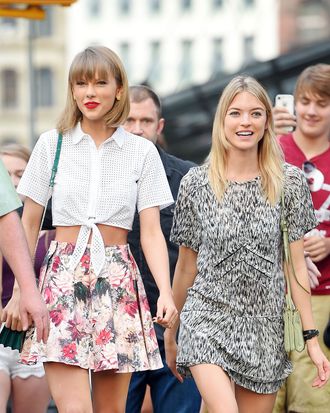 Taylor Swift and Squad Member Martha Hunt.
Photo: Josiah Kamau/Getty Images
Here is a headline from People this morning: "Squad Member Martha Hunt Weighs in on Taylor Swift and Tom Hiddleston Being 'Happy in Love.'" Who is Martha Hunt? She's a member of Taylor Swift's squad, and that's all you need to know.
Anyway, People interviewed Hunt about Taylor Swift and her new boyfriend Tom Hiddleston at a "Pepsi event celebrating World Emoji Day" last night in New York. Hunt said, "I love that they're both happy and free together. It's amazing, I'm all about people being happy in love."
People then asked Hunt to pick an emoji to describe the new couple (!) and she chose the one "with the biggest smile."
So … that's the scoop. Meanwhile, Swift and Hiddleston are in Australia so Hiddleston can work on his upcoming Thor movie. People reports that "the new couple, along with Hiddleston's Avengers co-stars Chris Hemsworth and Mark Ruffalo, were spotted Thursday by fans at a movie theater in Gold Coast, Australia, for a private viewing of the latest Ghostbusters movie."
It is only a matter of time before Mark Ruffalo becomes Squad Member Mark Ruffalo.