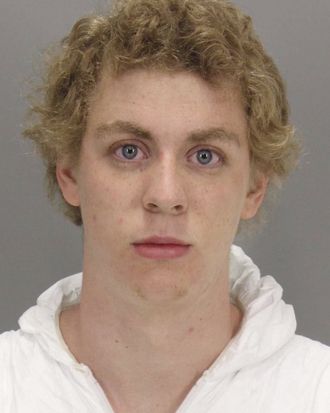 Photo: Santa Clara County Sheriff's Office
Brock Turner, the former Stanford swimmer who was convicted in June of felony sexual assault, will have to undergo drug counseling in addition to random testing after his release, the Associated Press reports.
Turner is set to appear again in court at a later date, where he will be ordered to seek counseling, according to internal communications from the probation department overseeing his case.
Turner, a 20-year-old former swimmer at Stanford, was convicted in June of three counts of felony sexual assault. He faced a maximum of ten years in prison after his conviction, but was sentenced to six months' jail time after the judge overseeing the case thought a longer sentence in prison "would have a severe impact on him."
At his sentencing, Turner was also ordered to be registered as a sex offender for life and to undergo random drug-and-alcohol testing. Counseling, however, was not mandated or recommended, according to the AP.
The new emails obtained by the AP reveal that the probation department wants to show that it recommended counseling in the event that Turner does test for drugs or alcohol.
Probation manager Jana Taylor wrote in an email that Turner needs the counseling, and that they do not want to be in a position where "[Turner's] attorney argues we never modified probation to include counseling."
Turner had initially blamed the whole ordeal that led to his conviction on the party and drinking culture at Stanford, saying he had never experienced the likes of it.
That was later revealed to be false. During the hearing, the prosecutor pointed to evidence from text messages that showed Turner's statement was a lie — he did indeed drink and use drugs in high school, according to the Mercury News.
In his statement to Judge Persky at his sentencing hearing, however, Turner wrote that, "coming from a small town in Ohio, I had never really experienced celebrating or partying that involved alcohol." That, along with letters from his father and friends, factored into Judge Persky's final decision.
Persky, who has come under scrutiny for his handling of the case, is currently facing a recall effort in California as well as death threats. He will not oversee the modifications in the probation.
Turner's case has drawn national attention because of the months-long sentence he received, which many — including a juror in the case — see as being too lenient. The victim in the case also read a statement at the hearing and later shared her own moving account of what happened, helping fuel criticism.