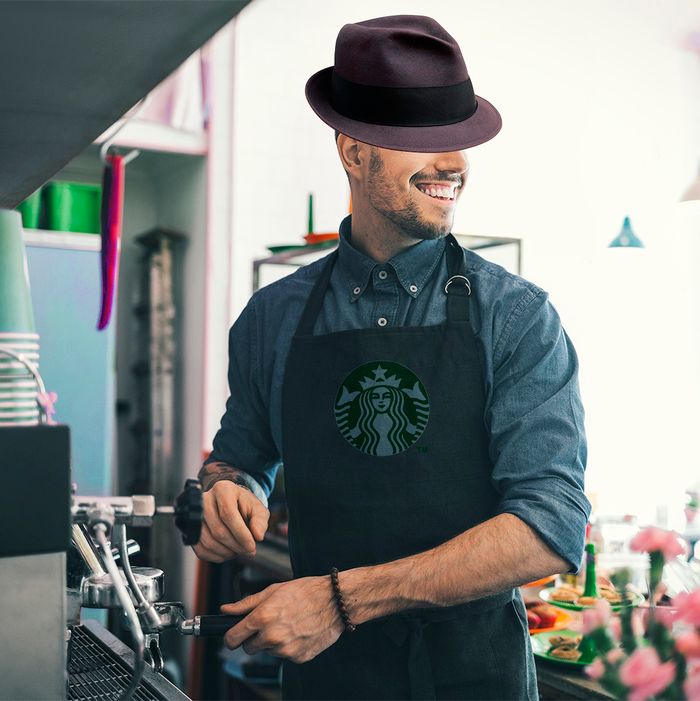 On Monday, Starbucks announced that they'd be changing their dress code to allow more options, much to the relief of baristas everywhere. Yes, they'd still have to wear the requisite green apron, but they would be able to branch out past khakis and solid black and white shirts. Excellent news for personal expression through fashion.
So what exactly would be allowed? As for tops and bottoms, Starbucks' dress-code look book states:
You're invited to wear a range of subdued shirt colors beyond black and white, including gray, navy, dark denim and brown. Solids are your friend, and so are smaller, tighter, low-contrast patterns. Undershirts do not need to match the shirt color but still need to be in the palette.

Wear pants, shorts, skirts or dresses in black, gray, navy, brown and khaki (no white). Jeans are welcome too, in darker washes and hues only (no light tones). All clothing must be durable, practical and fit comfortably, without rips, tears, patches or distress.
Okay, okay, sounds good so far. Low-contrast patterns, love it, work it. What else?
Top off your look with beanies, fedoras and other suitable hats in brown, gray or black, making sure they're clean and free from snags.
Wait just one minute. Fedoras? The official hat of the men's-rights movement, the one that you can't wear without slipping out a "m'lady?"

Howard Schultz, take this back immediately.