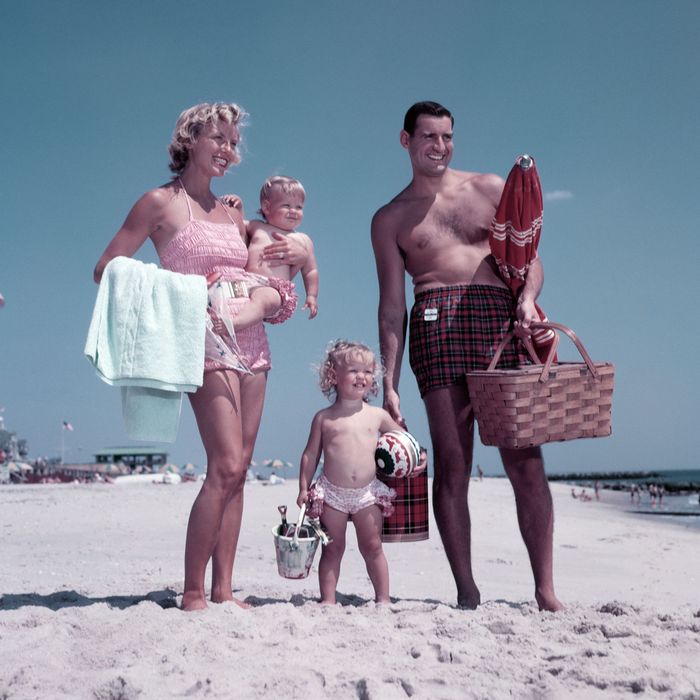 Photo: H. Armstrong Roberts/ClassicStock/Getty Images/This content is subject to copyright.
The latest testament to America's still-puritan work ethic comes from a new NPR/Harvard survey, which found that among people who work 50-hour weeks, half don't use all or most of their paid vacation days. For the people that do take time off, 30 percent of those do "significant" work while supposedly on vacation, presumably while wearing a T-shirt reading "9 to 5 is for the weak."
Those "hustlers" on their "rise and grind" may want to disrupt their "crushing it" to consider two concepts from organizational psychology: detachment and segmentation. According to a book chapter lead-authored by human-performance management researcher Evangelia Demerouti, detachment is when "the individual stops thinking about work and disengages mentally from work … and switches off from work-related matters and problems but also from the positive aspects of work." This is a good and healthy thing: When people get enough detachment, they're less fatigued and in better moods, recover better from stresses, and get better sleep. Research indicates that if you keep ruminating about work when you're off, you'll still be "cognitively aroused," which keeps you from being able to recover. It spills over into home: A study of 309 Swiss and German nonprofit workers found that not getting enough detachment predicted "emotional exhaustion." Segmentation is how clear the boundaries between work and nonwork are for you — someone who is "highly integrated" can't say where one ends and another begins, while someone who is "highly segmented" has a border wall between the two. Being highly segmented is healthy: When you know what's work and what's not work, it's easier to detach. And recuperate.
It looks like detachment works out for people careerwise, too. A small 2003 study took two groups of employees in the same company, one that took vacation and one that didn't. After coming back from vacation, the vacationers had the same level of stress as the non-vacationers, but much less burnout. As spotted on Harvard Business Review, a recent study of 5,641 adult Americans — released by the U.S. Travel Association and Project: Time Off, a "coalition" of travel-industry companies and state/city tourism groups, so take that for what you will — found that people who took less than ten vacation days a year had a 34.6 percent chance of getting a raise or bonus in a three-year period, while people who took more than ten days had a 65.4 percent chance of landing a raise or bonus. While you can't say that vacation is the exact mechanism, that's quite the association: an 89-percent increase.
Allow me to suggest a cause. From the org-psych research, it looks like segmentation and detachment — along with, say, working out — is one of the best levers you have for maximizing your energy. That's the power of getting away from it all: Free of rumination, absent of push notifications, you allow yourself to actually refresh. So that when you get back to the office, you'll have lots of fuel for crushing it, bro.