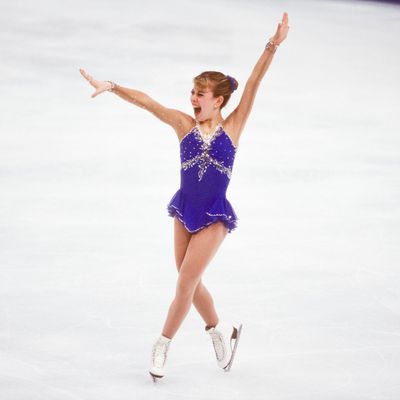 Photo: David Madison/Getty Images
Figure skating is by far the greatest Olympic sport. It has everything: coordinated outfits! Massive egos! Campiness! Triple axels! Rhinestones! Sabotage! But, for some reason, nobody has managed to turn the glamour and treachery of figure skating into a good fictional TV show. Until now.
According to Deadline, 1998 Olympic champion and expert shade-thrower Tara Lipinski is joining forces with producer Michael Shamberg and writer Jonathan Igla (who wrote for Mad Men, so you know it's going to be classy) for a new Hulu show about the cutthroat world of competitive figure skating.
Your new favorite show doesn't have a name yet, but it will center on a group of teens and 20-somethings training for the Olympics, "who sacrifice normal life for that sweepstakes shot at immortality that comes around every four years in front of a global audience." So: Gossip Girl on ice? Friday Night Lights on ice? Whatever it is, it's going to be on ice, and it's going to be dramatic.
"To the average observer, figure skating appears to be an extremely elegant and undeniably beautiful sport — and for good reason. But when you begin to peel back the layers of this world, a more complex, and even shocking, picture emerges," Lipinski said in a statement. "I want to paint an authentic picture of the highs and the lows and the price that some people pay to be part of this world." 

The gods have truly blessed us on this day.