Abigail Anderson and Taylor Swift.
Photo: Larry Busacca/Getty Images
In the great Taylor Swift–Kanye West–Kim Kardashian drama of the already-over-the-top scorching summer of 2016, we believed that after a day or two of shit-stirring, things would go relatively back to normal and we could move on to newer, more exciting dramas. But how arrogant we were to try to put a bookend on the moon landing. This ain't over until the petty goddesses say its over.
And with that, we bring you one of the more upsetting responses to the long-brewing beeves between Taylor and Kim and Taylor and Kanye. Taylor Swift's BFF, Abigail Anderson, whose name I thought I dreamt up when imagining what Taylor Swift's best friend's name was, sent out some ill-advised tweets last night that had to do with God, parenting, and North West. Hmmm. How about … don't.
The tweets began "I pray God helps your daughter understand … " and ended "because not every man thinks like him." If Kim Kardashian wanted your prayers and parenting advice, Abigail, I'm sure she would have asked.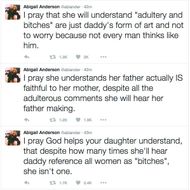 Unsurprisingly, the prayers have been deleted and replaced with a defense of some sort. #BlessIt