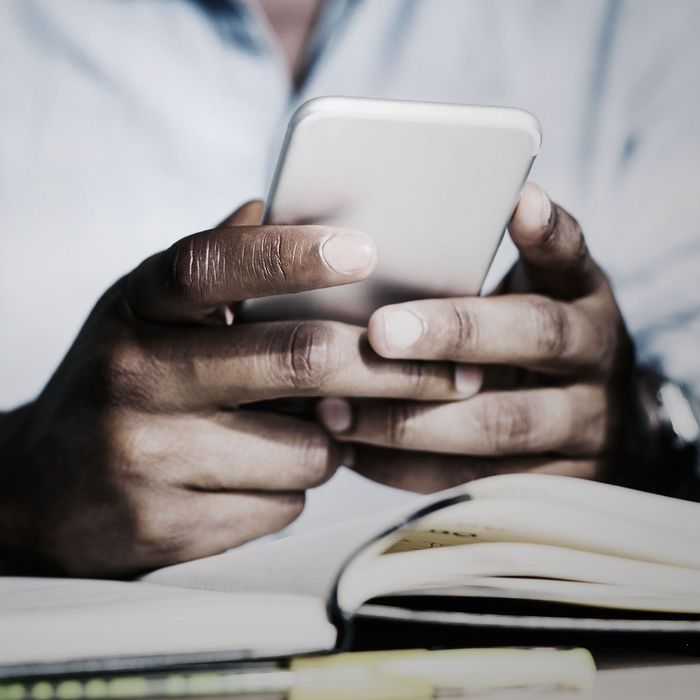 Photo: Westend61/Getty Images
New York's "Sex Diaries" series asks anonymous city dwellers to record a week in their sex lives — with comic, tragic, often sexy, and always revealing results. This week, a 26-year-old educator at a nonprofit who hits a nude beach twice; gay, single, Woodstock, New York.
DAY ONE
7 a.m. Woke up to my alarm clock calling me a son of a bitch. I need to remember to take that off — the novelty of that joke has died. I've got morning wood, and, as I'm single, I decide to handle it myself. Headphones in, MyVidster open, video selected, lube applied. Watching some video filled with story and sexual tension from Joe Gage studios. I switch to a video from men.com starring Connor Maguire, who is definitively my dream guy. I check his Twitter page while simultaneously wanking it. I think about Connor as Jason Todd in his Red Hood costume, and I orgasm immediately. God, I'm a nerd.
7:39 a.m. Hopping into my car to go to my last class of the year for one particular school. A 45-minute drive, no coffee, no train I can take: the joys of living outside the city. Yesterday, I went to the one nude-beach-slash-gay-cruising swimming hole that we have in the area (roughly an hour from me), and I got chewed up by mosquitoes and slipped on a rock and bruised my foot. But at least I got to meet two hot gentlemen. The pluses outweigh the minuses.
11 a.m. Only person in the office today. I got a lot of shit done today already, and I've only been here for 45 minutes. I feel good about it, because this honestly is rare. I work for a nonprofit, and I run a lot of stuff on my own, but I'm a procrastinator, which I cannot stand about myself. 

A guy messages me on Facebook, from one of the gay-nerd groups that I'm in. I think he's English. I can tell you at the very least that he's not Jewish; foreskin completely intact from the dick pic he just sent me. What a lovely penis, seriously. If he didn't live across the pond, I'd jump on that opportunity. 

Why are the guys that like me always farther away than I'm able to travel?
Well now I'm horny and I can't do anything about it.
1 p.m. Ate a banana. I'd be lying if I said I didn't even pretend it was a penis for like half a moment.
2:30 p.m. Preparing sex-health training for parents today. I really, really don't like talking to adults about sex health, particularly parents. It makes me very uncomfortable, talking to parents about these things, because of a weird power-dynamic thing. I'm 26 years old and not a parent: I feel weird telling someone who has children what they should be doing. With my southern black-American and Creole heritage, I instinctually just defer to grown-ups.
5 p.m. Downloaded Grindr again. I was off it for four months, which is pretty good. I hope I'll be strong enough to handle it this time and not check it every six minutes. See, I deleted Grindr because I was sick of the rejection. One thing they never tell you about the gay community is that pretty much everywhere except Harlem, black guys don't get messages, except by other black guys. If you live in a mostly white area like I do, more often than not you're going to get ignored or hear "I'm just not into black guys." 

Now excuse me while I go home and watch white guys fuck other white guys on my computer for the second time today. #partoftheproblem
10 p.m. Wow, that was an interesting turn of events. I opened Grindr at five, and then again at six, and I had messages from a bunch of people. And only two of them were creepy old men. That never happens!

Midnight I guess it's time to go to bed. I cannot fall asleep in total silence and total darkness; if I'm sleeping alone (which is most of the time), I use a mood-lighting app and a hypnosis podcast.
DAY TWO
8:01 a.m. First thing I do when I wake up is check Grindr. Then I watch another porno, where there's an intellectual discussion in the comments about race play. Apparently a subset of BDSM is degradation (which I knew), and a subset of degradation is race play, which consists of many variations on the theme of whites versus people of color, with the white guys deciding which role they are going to be.

That whole thing leaves a bad taste in my mouth. For me, any time I deal with racism and racist name-calling, it hurts me and shakes me to my core. Switched to a video with Connor Maguire. Mildly tamer. I think the thing that makes me feel good is knowing that he does fuck black guys, so it's like I *might* have a chance.
11 a.m. I've decided it's a Lemonade day. I didn't used to fully see it for her, but then "Formation" came out, and now I'm rolling with hot sauce in my bag, taking men to Red Lobster after the best fuck session. Okay, not actually Red Lobster. Probably Five Guys.
Noon I think the Grindr approval is helping a lot. I was having a hard time planning my weekend, because there are a bunch of people wanting to go on dates with me. This is unprecedented. Is it because summer is starting and people are realizing they need to be adventurous this summer?
2 p.m. Got to talking to my co-worker about relationships — straight dude in his early 20s. He asked me about my last long-term relationship. My last long-term relationship was long distance and off-and-on, but the emotional length was from 2009 to 2015. I'll call my ex-partner Native Swimmer. It was also an open relationship, for practical reasons. Like, we both have sexual needs. He admitted to me later on that during that time he'd slept with a few women, which I had a weird reaction to. Two fun facts about that relationship: (1) We never had sex. I never saw him naked, we held hands only once, and we kissed twice. And (2) If I'm being honest, if he showed up today and asked me to go to Town Hall and marry him, I still would do it, without a second thought and in a heartbeat. I still love him, I guess. I probably always will. Definitely my first true love. Makes me feel fuzzy thinking about him with his green eyes and mohawk.
7 p.m. Just finished showcasing one of my programs to the parents of students I've taught for ten weeks. One of the parents gave me a letter saying "thank you," and I still can't open it. I really can't, because I'll get emotional, and I'll realize the class will be over.
11 p.m. I'm exhausted. I don't even have the energy to masturbate for the second time in a single day.
DAY THREE
9 a.m. Woke up to a bunch of blocks on Grindr. I knew the order people were in my messages. I'm not even questioning them, but why would they run through all of that, plan a date with me, and go through all of that, just to be like, "Oh God, that one? Nope. I must've been out of my mind." It's painful to think about how they woke up, looked at my face, and blocked me because I was that repulsive to them.
4 p.m. Went into Staples for supplies for a sex-health forum. I caught another guy (one of the employees) checking out my ass. He smiled. That felt pretty great.
7 p.m. Only one parent came to my sex-health forum, so that was awkward. She asked me what she had to tell her kids specifically, so we ran through the whole gambit. I think we did. I also told her to watch Easy A and Mean Girls.
DAY FOUR
1 p.m. Work is really exceptionally dull today. I'm only going to last another hour before I go home.
5 p.m. One person that's sticking out on Grindr is a guy I'll call Stage Man. He has an adorable face, and he's visiting the area for three months! I can't wait to meet this guy. I've got a good feeling.
9:30 p.m. Too tired to jerk off. I don't like that it's possible. I updated my porn Tumblr and responded to messages there. Now I'm conking out.
DAY FIVE
Noon I have a general good feeling about this day. Walking to cash my paycheck with the sun shining. All I can do is smile.

5 p.m. Asked Stage Man if he wanted to meet up today, and he agreed!
9 p.m. I selected a pair of Andrew Christian underwear to wear for tonight. I hope he likes it. He's a hefty gentleman, and I love husky blokes, but they have a tendency to say that I'm too thin and thus not their type. Every time someone looks at a picture of me and summarily passes judgment on my entire person based on a 20-second glance at an image, I have the biggest eye roll in my spirit.
1 a.m. Oh my God … yo. Wait … yo. I wasn't ready. Let me start here: That was amazing. We spent a lot of time just kissing and cuddling. He is so comfortable. The reason I like curvy guys: (1) they unanimously know how to eat and have a good time, (2) they won't give me shit for eating fried food, and (3) they are so comfortable.

I've never had someone compliment me more while I was naked, or had someone make me laugh so much before, after, and during sex. He was deceptively large, very thick, and I was having a hard time. One hundred percent my eyes rolled into the back of my head. So … fucking … good.

Anyway, he's a little more flamboyant than I usually go for, but I feel a strong connection. And holding his hand feels really good. Sleeping next to him, wrapped in his arms? Goddamn it, that felt perfect.
DAY SIX
Noon I have arrived at the nude beach. I paid to park, which is not something I normally have to do. But that's fine. I'm still riding high from last night.
So I met a guy name Neal, mid 30s, lovely cock. We went to the cruising area, and I got to blow him. We were joined by a white-haired daddy in his 60s, which I don't normally go for, but he was hard and ready. This summer is going to be fantastic.

DAY SEVEN

Noon I ate a mozzarella stick and half my tooth fell out. Let me repeat that. HALF MY TOOTH (if you're in dental care, it's tooth 13, the second bicuspid/premolar) fell out of my face. It doesn't hurt, and it was marked to be extracted in August anyway, but I didn't realize the cavity was that severe. Good God, I'm like shaking. I'm on my way to the ER to make sure there aren't any fragments that will fall off if I eat anything.
3 p.m. Weirdest conversation with a doctor:

"Right, so my tooth is half gone. Fine, whatever. Can I still give a blow job without scratching someone?"

"I mean … I think so? It's far enough back. Take three fingers and pretend they are a phallus, and use that to determine."

I tried it, and it was fine. But I don't think I can go back to that hospital.
7 p.m. I think I'm going to go to bed. I get to see Stage Man tomorrow.
Want to submit a sex diary? Email sexdiaries@nymag.com and tell us a little about yourself.