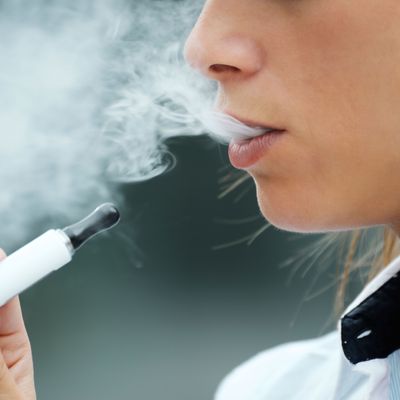 Vape life!
Photo: Getty Images
Teens: can't trust them to do anything right. First it was hoverboards, then it was following in Justin Bieber's teenage dirtbag footsteps, and now it seems that modern-day teens, who might not otherwise have been susceptible to nicotine addiction, are vaping themselves silly.
A new study published Monday in the journal Pediatrics found that teens are still ingesting nicotine at a higher rate than experts expected. The study tracked "the use of cigarettes and e-cigarettes among 5,490 California high school seniors who graduated between 1995 and 2014" and found that because of vaping, teens report inhaling nicotine at rates researchers haven't seen since the '90s. Remember how much people smoked in the '90s? From the Times:
But the rate of teenagers using nicotine — either through tobacco cigarettes or e-cigarettes — is on the rise. About 14 percent of Southern California high school seniors in 2014 said they had smoked or vaped in the last 30 days. Researchers say they have not seen similar levels of nicotine use among teenagers since 1995, when 12th-grade smoking rates were 19 percent.
Teens who wouldn't have otherwise smoked cigarettes are instead getting nicotine by vaping, the study found, and "while earlier studies have suggested that some teens are using nicotine-free vaping liquids," researchers said that most teens appear to use vape juice infused with nicotine.
A professor of pediatrics at MassGeneral Hospital for Children and Harvard Medical School, Dr. Jonathan Wickoff, told the New York Times that the dangers of nicotine addiction are still very real, even in vaping: "The F.D.A. has done tests on these vaping products that supposedly do and do not contain nicotine, and what is advertised is really not what's in the product." Get it together, teens. The vape life isn't for you.