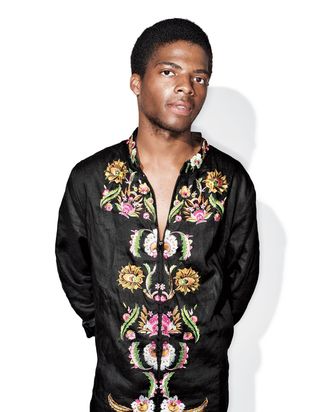 "[My shirt was] designed by my friend Philip Saw."
Photo: Bobby Doherty/New York Magazine
Isaiah Kirkland, Unemployed
So what are you doing with yourself?
Right now, I'm just trying to model and build up my résumé. I want to get into fashion. I've met with a few people, but it hasn't really gone as planned. I've been working a little bit for my uncle in his gallery. I could get a job in the food industry, but if I had wanted to work at McDonald's, I would have just stayed in Houston, where I'm from.
As a Texan, how do you feel about the Dallas shootings?
I'm still just going over it and putting stuff in my head. I'm not thinking about it too much — it's too much right now. But I saw the [Alton Sterling] video, and afterward … it was just a dark feeling, a sad feeling, an evil feeling. I've been treated the same way — like a criminal even though I'm just a regular guy.
Do you feel like you're treated any differently in New York?
No, not really. It's no different, they all treat us the same way. Just the other day, I was sitting down with a bag next to me, and a cop asks me, "Is this your bag?" I didn't really hear him, and so he asked again, aggressively — I don't know, people just think we're monsters or something.
Lightning Round
Age: 22.
Siblings: Three. "I'm the youngest."
Listening to: "I've been thinking about home, so I just played Dean Martin's song 'Houston.' "
Shirt: "Designed by my friend Philip Saw. I love beautiful things and looking beautiful. That's what I do!"
*This article appears in the July 25, 2016 issue of New York Magazine.