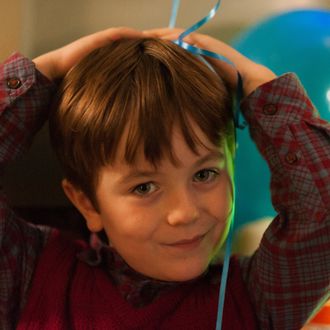 Photo: Rory Mulvey/Sundance TV
The A Word, a new scripted series from Sundance TV and the BBC, tackles a tricky, complicated subject: autism. Inspired by the Israeli series Yellow Peppers, the show follows Joe (Max Vento), a child with moderate autism, who lives largely under headphones, endlessly listening to bands like the Arctic Monkeys. Set in the rural Lake District of northwest England, where autism is still taboo, the show touches on the pressures Joe's autism places on his family, the social stigmas they face, and their challenges in getting their son proper care. The show premieres on Sundance TV on July 13.
At a Peggy Siegal Company–hosted screening of the show at the Museum of Arts and Design on Tuesday night, Science of Us caught up with Peter Bowker, the show's writer and executive producer. He talked about the challenges of portraying autism in a sensitive way, how his deep understanding of learning disabilities informed the show, and the star power of his young lead, Max Vento, who is not on the autism spectrum.

I understand you were working with the autism community before making this film?

Yeah, when I left university I became a teacher with severe learning disabilities, and for 14 years did that job, and taught children with autism and on the spectrum, both severe and mild, and got to know them and their families, and stayed in touch with quite a few. Two friends, one whose child is severely autistic and one whose child is more like Joe is, sort of middle of the autism spectrum. So I suppose for my whole adult life I've had pretty regular contact with people with autism and those who care for them.
What did you want to get right?
Well, I was quite interested in how people react to it, and the kinds of fault lines that it exposes in a family, because it is clearly a disability that is about communication, and yet it is something we can't talk about. So for a dramatist that is quite a gift. The other thing I wanted to get across is that for most people on the spectrum they are somewhere in the middle, they are neither Rain Man, nor in great distress. In that regard it is quite a hidden disability, and I suppose the real part I'd like to get across is with a bit of communication and a bit of reaching out, then I think we make the world a more autistic-friendly place.
Was there anything that made getting that message across especially challenging?
I felt I knew quite a bit about it anyway, but we ran all the scripts past the Autism Society in the U.K. We had a pediatrician who diagnoses autism, he ran his eye over the script to get the technical stuff right, to get the emotional stuff right. I just hope that I portrayed the strains of a family, and the strains that this particular boy puts on this particular family, and I want to be really clear it is just one boy with autism. In terms of practically getting it right, the thing we really had to get right, we lived or died by the casting of the boy, and we were incredibly lucky finding young Joe.
And what did he do to really get that right?
He isn't on the spectrum himself, but he has a lovely quality of being slightly apart, so what he managed to do was relax on camera and just be removed from everyone else, and that had to do with the wonderfully supportive cast and everyone around him. My big fear was of a 6-year-old child trying to impersonate a child with autism — that would have been really uncomfortable for the viewer. Joe is an incredibly self-contained child, who is very very different from the child he is playing.
How did you find him?
I think the casting director saw 250 kids. There had been an open process and open invitation, boys and girls, on the spectrum, not on the spectrum, and we narrowed down to 25 or so, and then the director went in and worked with the kids. He was just interested in if they could play games, and I remember looking at Max, and saying he looks like a young, chubby Ian Curtis —he is old-fashioned in his look. His older sisters do drama and singing, so he has got an idea of performance, so he understood the process.
Any other challenges in depicting this world that you came across?
The challenge that remained, as you saw in the first episode tonight, was his coherence and communication. The challenge was finding the balance between showing him being able to communicate and then suddenly not. Joe has the type of autism where he is tuning in and tuning out, so getting that right. Getting that sense that has tuned out, that something is too much for him, so he'll go into his music or something, and the balance of that throughout was always quite tricky.