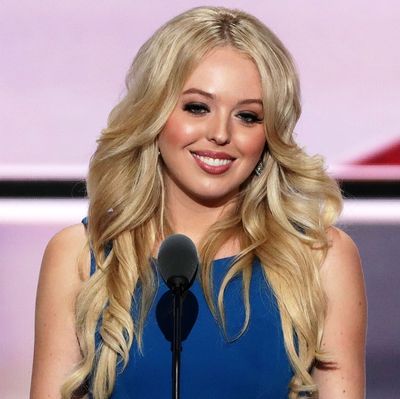 Tiffany Trump delivers a speech at the Republican National Convention.
Photo: Alex Wong/Getty Images
On Tuesday night, Tiffany Trump followed in Melania's contentious footsteps when she spoke in favor of her father at the Republican National Convention in Cleveland. Melania's speech was criticized not only for plagiarizing a successful 2008 speech by Michelle Obama but also for failing to provide even a single anecdote about her husband that might help the rest of the world to see him as a pleasant human being rather than a racist blowhard.
Tiffany's speech, on the other hand, was an earnest attempt to make Donald seem more personable, and for some she succeeded. But the anecdotes she told about growing up with Donald Trump as a father made him seem, if anything, even more alien.
She opened with general praise of her father, whose "desire for excellence" she called "contagious." She went on, "He possesses a unique gift for bringing that trait out in others, starting with those closest to him. He's always helped me to be the best version of myself. By encouragement and example, he always motivates me to work my hardest and to stay true to what I believe."
She went on to describe how her father "takes such pride in all I've done so far, no matter how big or how small" and told the audience that she keeps all her report cards to read the "sweet notes he wrote on each and every one of them." And some of the notes don't even focus on academic performance!
Her second anecdote is even more revealing. "A few years ago someone very dear to me passed away, and the first call I got — as I knew I would — came from my father," she said. "Without his unwavering support, I don't know how I would've made it through."