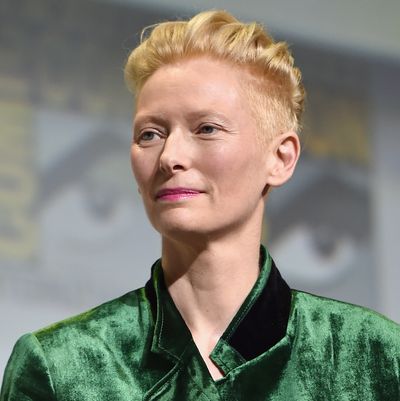 Photo: Alberto E. Rodriguez/Getty Images
It's hard to imagine Tilda Swinton, intergalactic sky priestess, sitting down for a low-key evening of Netflix in her silk PJs. But as it turns out, when she's not sleeping in glass boxes and designing perfumes inspired by Sufi mystics, Tilda enjoys a good female-fronted comedy blockbuster as much as we do.
"One of the most surprising pieces of information we got during that Bridesmaids time period was that Tilda really loved the movie," Bridesmaids co-writer Annie Mumolo revealed in a new interview with Vanity Fair. "We became e-mail friends — just writing back and forth occasionally. It was so funny, I thought, that Tilda Swinton was e-mailing me."

In fact, their email correspondence was so fruitful that Mumolo is adapting a version of Auntie Mame on Tilda's request, in which Tilda will star as the titular auntie. "She's like, from another world," Mumolo added. "She's one of the most intelligent people I've ever encountered. She's so funny. Her e-mails are like works of art, truly. They should be published. The way she communicates is just beautiful and poetic."
Tilda, if you ever want to publish your emails in the form of a magazine cover story, please let us know.