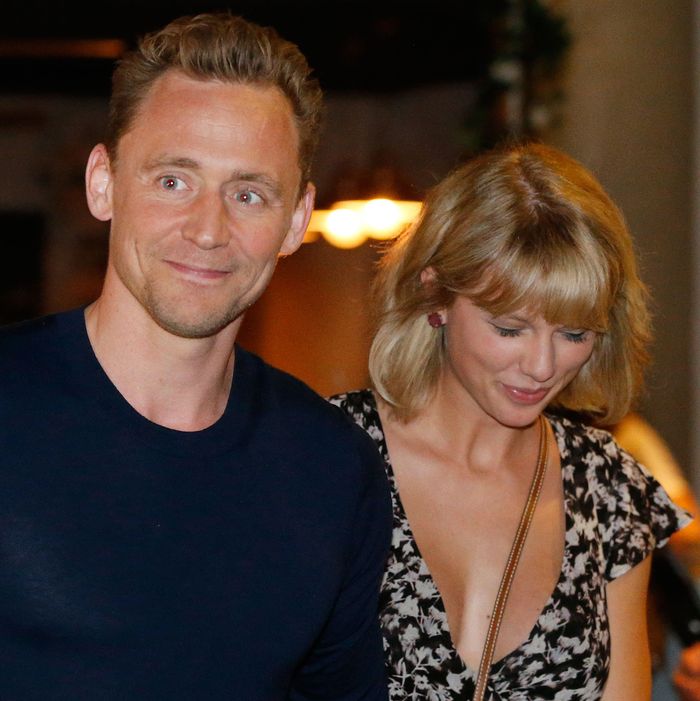 Hiddleswift.
Photo: Newspix/Getty Images
As if his tank top didn't make it clear enough, Tom Hiddleston really does heart T.S. The Emmy-nominated actor made as much clear when asked about his very real relationship with Taylor Swift in an interview with The Hollywood Reporter, which reported the exchange as follows:
"Well, um. How best to put this?" said Hiddleston, chuckling. "The truth is that Taylor Swift and I are together and we're very happy. Thanks for asking."

He even went on to clarify: "That's the truth. It's not a publicity stunt."
Aside from that gorgeous paragraph break — A-plus formatting choice, A-plus use of the verb "chuckle," THR — there's a lot to love about Hiddleston's comments. He has previously brushed aside questions about Swift during their tour of Australia, but now, he seems practiced and ready. Or perhaps, this is a coded message: Read "How best to put this?" as "she is watching," read "Taylor Swift and I are together" as "now she's standing across from me right now," and the pause before "that's the truth" as the time it took for Taylor to grab the phone and start attempting a British accent. Or, you know, love could exist. We'll see if Taylor comes to the Emmys.