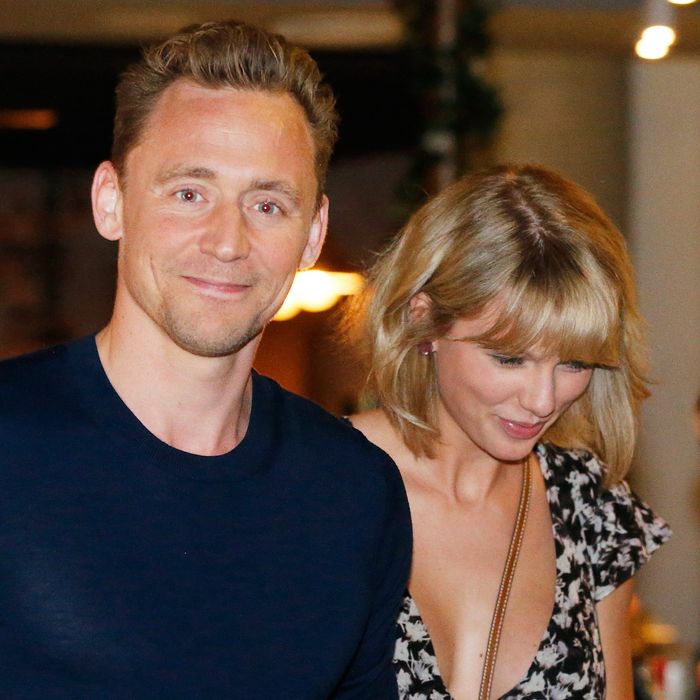 Two people who have a genuine human connection, nothing to see here
Photo: Jerad Williams/Newspix/Getty Images
If you've listened closely over the past month, you've heard one word carried by the wind — a persistent, haunting echo wherever you turn: Hiddleswift, Hiddleswift, Hiddleswift.
Fresh off the heels of her breakup with DJ Calvin Harris, Taylor Swift was spotted making out with non-DJ Tom Hiddleston on the shores of ye olde New England. In a matter of days, Swift was meeting Hiddleston's mom in the U.K., followed by a couples' vacation to Rome and the Vatican. Should those photo ops not be sufficient to broadcast their relationship, Hiddleston was also seen wearing a tank that read "I [heart] T.S." Many speculated that the union was fake, one strategically created by Swift's PR team to aid the stars' public image.
There was, of course, a way to prove that theory wrong: by giving a quote to the press that signified a truly genuine connection between the two hot, rich, and famous people. Tom Hiddleston … did not give that quote.
After Swift and Hiddleston flew to Australia, a reporter caught him heading out for a jog and stopped him to ask how Swift was enjoying the Gold Coast. Hiddleston replied by stammering and saying, "I'm not going to answer that if that's alright." When another reporter asked him if Swift was "the one," he laughed nervously for a second too long and said, "I'd rather just talk about my work if that's alright." Oh, Tom. Didn't you know there was no turning back after the "I [heart] T.S." tank?
It's all pretty awkward to watch, but nothing several hours in a room with Swift's publicist grilling him can't solve.