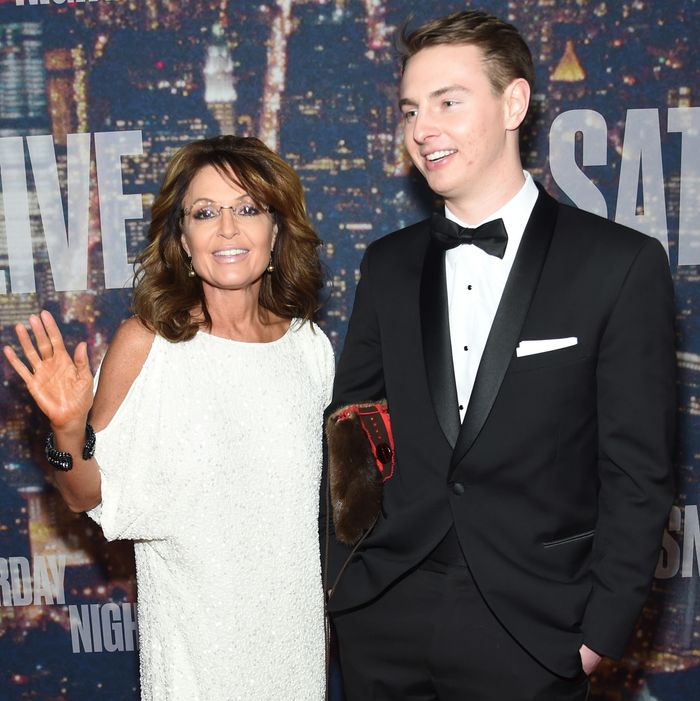 Photo: Jamie McCarthy/NBC/NBCU Photo Bank/Getty Images
Sarah Palin's son Track has entered a plea agreement in the domestic-violence case against him, stemming from an incident in January 2016 when he punched and kicked his girlfriend and threatened to kill himself with an assault rifle at the Palin home in Wasilla, Alaska. He had a blood-alcohol level of 0.189 at the time.
Wasilla police told New York Daily News at the time, "An investigation revealed Track Palin had committed a domestic assault on a female, interfered with her ability to report a crime of domestic violence, and possessed a firearm while intoxicated." In the plea agreement he will reportedly enter in court on Monday, Track will only be charged with misconduct involving weapons in the fourth degree, and the other two charges will be dropped.
According to USA Today, Palin's lawyer, Kevin Fitzgerald, indicated that the deal requires him to attend an "alcohol-related" treatment program; the final charge will be expunged from his record once he completes the program. Even if Palin doesn't finish the program, he faces what amounts to a slap on the wrist, in the form of a suspended jail sentence and a two-year "informal probation."
Track Palin, who served as a soldier in Iraq in 2008, requested that his trial be held at a special court for veterans. Sarah Palin was campaigning for Donald Trump at the time of Track's arrest, and in one infamous speech, she attempted to link Track's arrest for domestic violence to the government's mistreatment and indifference to veterans.
In 2014, Sarah Palin, husband Todd, daughter Bristol, and Track all got super-messy in a drunken fight at a birthday party. No charges were filed.