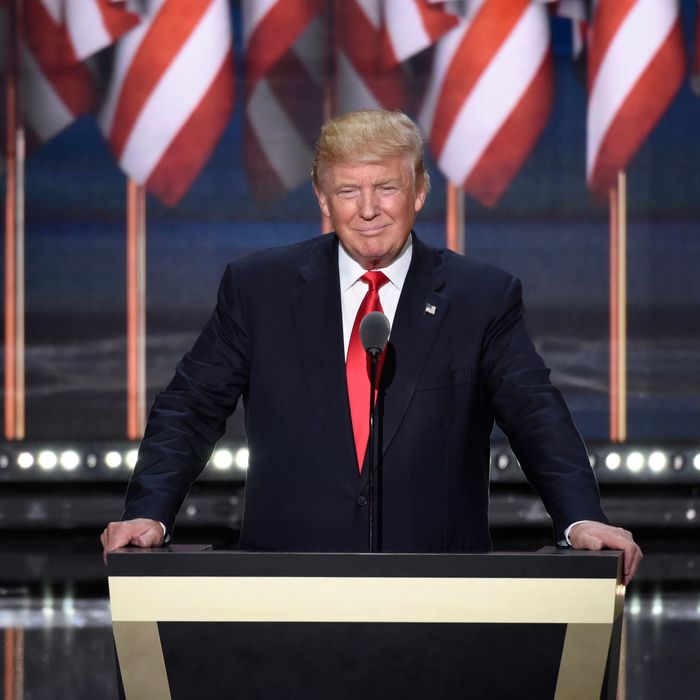 Trump's moral compass is a bit off.
Photo: Ida Mae Astute/ABC via Getty Images
Last week, news broke that Roger Ailes — the Fox News chairman and CEO who's been accused of sexually harassing multiple women for many, many years — was asked to step down. Apparently Rupert Murdoch (the CEO of 21st Centry Fox, which is Fox's parent company) felt the charges against Ailes, which include reports that he repeatedly told women he'd help their careers if they had sex with him, were too egregious for Ailes to continue in his role. (Of course, Ailes also got $40 million in severance, so maybe he and Murdoch are still on speaking terms.)
The claims against Ailes have yielded an equal number of defenders, and it was only a matter of time before Donald Trump joined the pro-Ailes faction. He did so in an interview with NBC's Meet the Press that aired Sunday, in which he called Ailes a "very, very good person," and proceeded to blame his alleged victims.
"He's been a friend of mine for a long time, and I can tell you that some of the women that are complaining, I know how much he's helped them, and even recently," Trump said. "And when they write books that are fairly recently released, and they say wonderful things about him."
He went on, "And now all of a sudden they're saying these horrible things about him. It's very sad because he's a very good person. I've always found him to be just a very, very good person. And by the way, a very, very talented person. Look what he's done. So I feel very badly. But a lot of people are thinking he's going to run my campaign."
Trump's campaign chairman immediately denied that Ailes would have anything to do with the Trump campaign. But in fairness to Trump, he and Ailes do seem like natural allies.