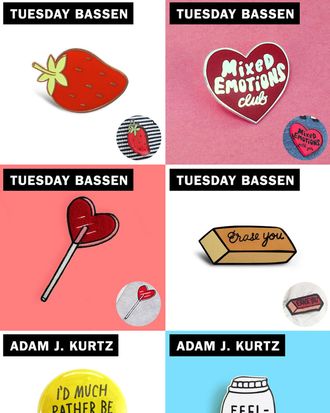 Photo: Courtesy of Adam J. Kurtz
In early 2016, independent artist and designer Tuesday Bassen, who is based out of Los Angeles and sells hand-designed pins, patches, and clothing, started getting emails from fans saying that something wasn't right. They'd been seeing her designs popping up at Zara, the international clothing brand, and they were writing in "concerned about whether or not they had officially licensed my artwork," Bassen says. She told them the company had not, and soon found more instances of Zara stealing from her.
"I decided to officially take legal action when I saw the 'Girls Pennant' design in person at the mall," she told the Cut. "Nothing had been changed, there was no room for question. This was my artwork, and something needed to be done about it." Bassen swiftly hired a lawyer to fight the intellectual property theft, and in the period between sending a cease-and-desist letter and receiving the company's response, Bassen found several other pieces of her work at Zara and their subsidiaries. Two thousand dollars in legal fees later (no small sum for an independent artist), Zara responded with no apology and no effort to take the case seriously. Bassen posted an excerpt from the letter to her Instagram account, which 156,000 people follow, and thus began a whirlwind battle between Zara and several other independent designers it had apparently been stealing from.
"The lack of distinctiveness of your client's purported designs makes it very hard to see how a significant part of the population anywhere in the world would associate the signs with Tuesday Bassen," Zara's legal team wrote, continuing, "This is our firm view, and being fully aware of the 3rd party notifications that you have brought to our attention. In this last regard, please not [sic] that such notifications amount to a handful of complaints only; when it is borne in mind that millions of users worldwide visit the respective websites monthly (Zara: 98,000,000 average monthly visits last year, Bershka: 15,000,000 average monthly visits last year), the figures clearly put those few notifications into sharp perspective." Essentially, Zara was telling Bassen that she wasn't famous enough to have her work stolen.
Bassen's friend and fellow designer Adam J. Kurtz had seen his art stolen by Zara too, but he initially didn't take immediate action. "In June, a fan tweeted a single product from Bershka (a Zara subsidiary) that included artwork by myself and several other artists, recognizing it as a knockoff. I started emailing their customer service and eventually did get a response," he told the Cut. "The product in question was removed a few days later. I wasn't going to say anything publicly because this is very common, and though it was clearly my art stolen, the reproduction was so ugly and, you know, I'm a busy person." It wasn't until Kurtz saw Bassen's Instagram that he realized the problem went much deeper, and that he'd be doing other artists a disservice by continuing to ignore it. 
So the pair started looking further, and found many more cases. "It's become apparent that Zara's suppliers used Instagram hashtags for pins and patch makers as source material," Kurtz said, "knocking off work from a growing list of at least 18 artists in a single season's collection." Now, on a site launched by Kurtz called shoparttheft.com, works from the 20-plus artists Zara has copied from are featured next to the Zara versions, along with links to buy the originals. "When this kind of theft happens, there's so little that artists can actually do," Kurtz said. "Most of us don't have the time or resources to fight properly, with lawyers and evidence and copyrights."
That sentiment was echoed by Megan Campagnolo, the designer behind Rosehound Apparel. One of Campagnolo's designs — a chenille patch that features a melting creamsicle — had been cribbed by Zara, but she'd decided not to fight back because "it didn't seem worth it or possible" and she thought Zara could chalk it up to coincidence.
"But after seeing so many designers in my industry (which is fairly tight-knit — most of the designers who were ripped off are friends of mine) being ripped off simultaneously by Zara, it became clear that this was blatantly intentional," she wrote in an email to the Cut. "I admire Tuesday for taking the action that she has — between the financial struggles and the overwhelming battle against an astronomically larger corporation. Most independent designers wouldn't have the courage to do what she has. Hopefully this will bring enough public attention to the matter and help put a stop to this sort of situation happening in the fashion industry."
Plagiarism is not uncommon for independent artists and designers. Bassen herself has had work copied by teen mallgoth brand Hot Topic — they used a design for which she had trademark and copyright applications in progress, but the case has yet to be resolved, she said. Kurtz has had dustups with other brands, too: "I fought with Amazon to have a knockoff of my popular 'SORRY I AM SUCH AN ASSHOLE' balloons removed from sale," he told the Cut. "But I've also seen people print my art as stickers and sell them on Etsy, and it's just like, you know what? That looks like complete shit and I don't feel like writing an email today."
But it's tough for morale no matter who the culprit is, the artists say. "It is always soul-crushing to see your work stolen, especially as an artist whose entire livelihood depends on compensation for said work," Bassen wrote. "I hope that the level of notoriety this case is getting helps blow the door wide open for other artists that have been taken advantage of and the rampant theft of intellectual property stops (or at least slows) here."
As for Zara, they've changed their tune since their lawyers' first letter to Bassen. In a statement to the Cut, Zara's parent company wrote:
Inditex has the utmost respect for the individual creativity of all artists and designers and takes all claims concerning third party intellectual property rights very seriously. Inditex was recently contacted by the lawyers of artist Tuesday Bassen who noted the use of illustrations in some badges sourced externally and on clothes in its Group stores. The company immediately opened an investigation into the matter and suspended the relevant items from sale. Inditex's legal team is also in contact with Tuesday Bassen's lawyers to clarify and resolve the situation as swiftly as possible. We are also currently investigating other allegations of illustrations used on badges provided by external suppliers on a case by case basis.
So what happens now? Bassen, for one, says she's "tenacious as hell" and has a new lawyer who is "prepared to take this as far as we need to." Brandon Dorsky, Bassen's lawyer, has said he's prepared to go to trial if necessary. As more artists' work pops up on the Shop Art Theft site, and the community's voice grows louder, these artists are making a strong argument for never messing with the little guy.