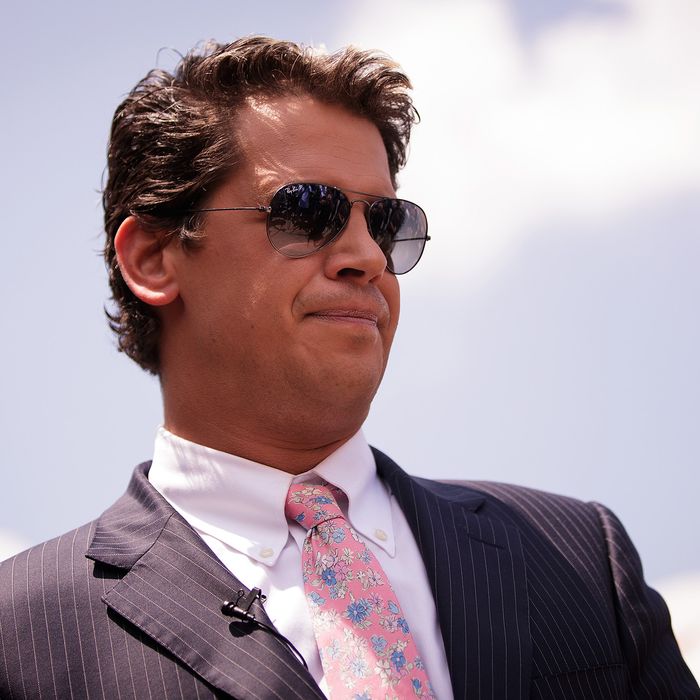 Photo: Drew Angerer/Getty Images
On Tuesday evening, Twitter permanently banned Milo Yiannopoulos, one of the most contentious and popular conservative voices, on the platform after he finally went too far.
Yiannopoulos, a tech editor at Breitbart, is known for his alternative, conservative views. More than that, though, on Twitter Yiannopoulos had a reputation for often pushing the limits of acceptable behavior, often encouraging his followers to go after and troll certain accounts. With more than 380,000 followers, there wasn't a shortage of eager and supportive users either.
His most recent target of attack was Leslie Jones, one of the stars of the new Ghostbusters remake.
Twitter's decision to permanently bar Yiannopoulos comes a day after Jones was on the receiving end of a series of sexist, racist and hate-filled tweets. Initially, Jones merely blocked and reported the offensive accounts, but when things reached a boiling point, she began to screenshot the tweets and share them with her followers in the hopes of drawing attention to the online harassment she was experiencing.
In a statement via a spokesperson, Twitter didn't link Yiannopoulos directly to Jones, saying instead, "no one deserves to be subjected to targeted abuse online."
The full statement offered to BuzzFeed reads:
"People should be able to express diverse opinions and beliefs on Twitter. But no one deserves to be subjected to targeted abuse online, and our rules prohibit inciting or engaging in the targeted abuse or harassment of others. Over the past 48 hours in particular, we've seen an uptick in the number of accounts violating these policies and have taken enforcement actions against these accounts, ranging from warnings that also require the deletion of Tweets violating our policies to permanent suspension.

We know many people believe we have not done enough to curb this type of behavior on Twitter. We agree. We are continuing to invest heavily in improving our tools and enforcement systems to better allow us to identify and take faster action on abuse as it's happening and prevent repeat offenders. We have been in the process of reviewing our hateful conduct policy to prohibit additional types of abusive behavior and allow more types of reporting, with the goal of reducing the burden on the person being targeted. We'll provide more details on those changes in the coming weeks."
Though the tweets against Jones were already particularly racist and offensive, Yiannopoulos apparently did much to stoke the fire. Things appear to have got their start when Yiannopoulos wrote a review of Ghostbusters, according to Fusion. In the review, he called Jones' character a "flat-as-a-pancake black stylings." He added that Jones was playing a victim on Twitter, which only further motivated the trolls.
Even among that level of animosity, though, plenty of users came to Jones' defense.
It wasn't long before fans began the #LoveForLeslieJ hashtag and celebrities began showing their support for the actress and comedian.

But in the end, the emotional angst over the incessant trolling was too much. Jones announced she was leaving Twitter that night with "tears and a very sad heart."
In her following Tweets, Jones acknowledged the rights to free speech, but also called for better regulation of hate speech on Twitter.
Her call didn't go unanswered. Later that night, Twitter CEO and co-founder Jack Dorsey reached out to Jones, asking to DM with her. He then released a statement saying that the company had taken action against the offending accounts.
At the time, it was unclear what action, exactly, had been taken. The ban of Yiannopoulos, though, is certainly among the most visible actions taken.

On Breitbart, Yiannopoulos responded to the ban by calling the whole situation an attack on free speech, which Twitter has long championed.

"Twitter is holding me responsible for the actions of fans and trolls using the special pretzel logic of the left," he wrote. "Where are the Twitter police when Justin Bieber's fans cut themselves on his behalf?"