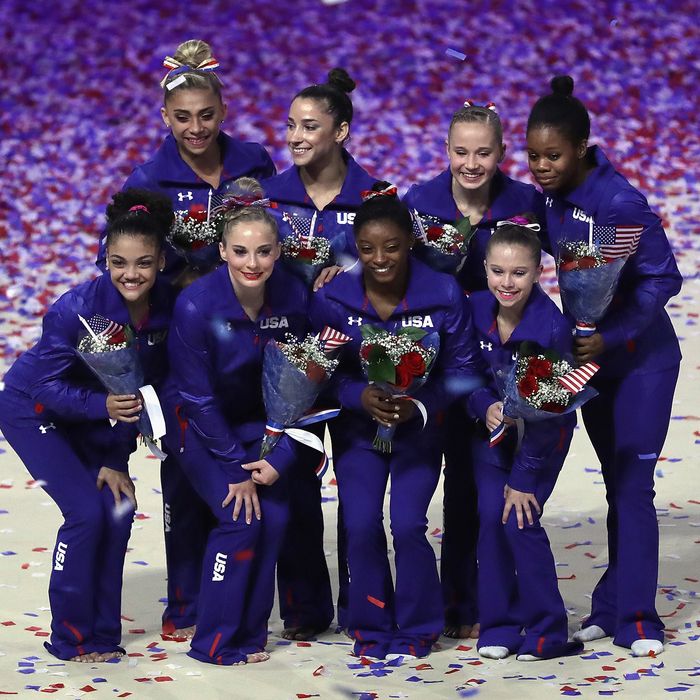 Photo: Ronald Martinez/Getty Images
Simone Biles was pretty much guaranteed to earn a spot in this year's U.S. women's gymnastics team. After all, Biles has been called the "Michael Jordan" of gymnastics.
(Seriously, though, just look at her own the floor with glee during her routines.)
While Biles may be among the highest-profile female gymnasts this year, she won't be the only one representing the United States at the 2016 Olympic Games in Rio de Janeiro, Brazil. Biles will be joined by a set of teammates who, together, represent a range of ages as well as racial and ethnic backgrounds. Two of the teammates are black, one is Latina, and one is Jewish. It's a pretty damn diverse and accomplished bunch.
Biles will be joined by Gabby Douglas, who made history at the 2012 London Olympics when she became the first African-American to win gold in the all-around category. Douglas has stumbled a bit during the trials this year, but she's hoping to defend her championship.
At 22, Aly Raisman is the oldest member of the team. Raisman, who is Jewish, joined Douglas as part of the "Fierce Five" team that took gold home at the London Olympics.
Together, the team represents a level of diversity in a sport that has historically not seen much of it.
To put it into perspective, it wasn't until 1980, when Luci Collins made the U.S. team, that the country had its first African-American female gymnast in the Olympics team. As a result of the U.S. boycotting the Moscow games, however, Collins didn't end up competing that year.
While later years saw an increased number of black Olympic gymnasts on the U.S. team, the number of Latinas remained small, though there were notable exceptions in the '80s and as recently as 2004, according to Elle.
Today, Biles is the favorite for gold (the woman has already racked up seven championships, four in the U.S. and three worldwide). Let's not forget, though, that Douglas is also heading to Rio with the goal of making history again. She's the first reigning champion in the all-around category since 1980 to go back to the Olympics following her win.
For Hernandez, though, this is her first Olympics, and she's simply proud to represent Latinos.
Speaking at the end of the first day of trials over the weekend, Hernandez said: "I see it as such an honor to just, you know, in some sort of way to represent Puerto Rico and Hispanics and all the girls out there."