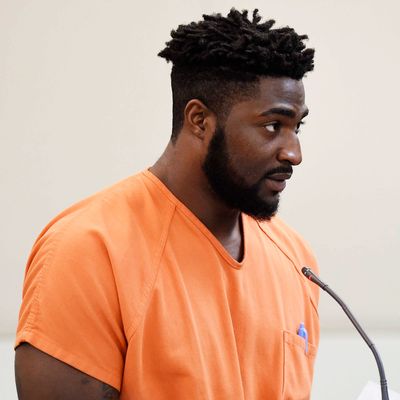 Cory Batey at sentencing.
Photo: Samuel M. Simpkins/The Tennessean via AP
Cory Batey, one of four former Vanderbilt football players involved in the gang rape of an unconscious woman on Vanderbilt's campus in the summer of 2013, was sentenced today to 15 years in prison. He will also have to register as a lifelong sex offender.
At Batey's sentencing, the victim, who is now 24, reportedly spoke through tears during her testimony, saying, "It will never be possible for anyone to put into words how this has affected me," she said. "You will never understand what this has done to me if you aren't standing in my shoes. The humiliation, the pain, the isolation, being reduced to nothing but a piece of flesh right before your eyes, it does something to you that is truly impossible to describe." The four men were captured on surveillance cameras carrying the woman from her car into a Vanderbilt dorm where "one player allegedly penetrated her with a water bottle while another encouraged him," and "one defendant allegedly urinated on the victim and 'made a racial statement.'"
The Tennessean reports that the three other players involved in the gang rape, which was said to be orchestrated by Brandon Vandenburg, who was the woman's boyfriend at the time, have not yet been sentenced. "Brandon E. Banks and Jaborian 'Tip' McKenzie have pleaded not guilty and are awaiting trial. Brandon Vandenburg, 23, was found guilty on all eight counts against him after a separate trial in June. He faces a prison term of 15 to 25 years for the convictions at a sentencing hearing Sept. 30."