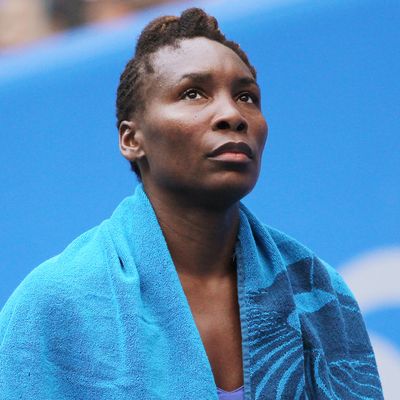 Venus Williams would like Wimbledon to do better.
Photo: Zhong Zhi/Getty Images
Venus Williams (gently) took Wimbledon organizers to task on Thursday after she was assigned to play at Court No. 18 — the sixth-largest court at the tournament, which holds 782. According to Think Progress, Williams — who has won the Wimbledon women's singles title five times — hasn't been scheduled on a court this small at Wimbledon (or anywhere else) since 1999.
Williams didn't outright say the tournament's court assignments were sexist, but she did hint that a man in her position likely wouldn't get the same treatment. "I wasn't unhappy to play on Court 18," she told reporters during a press conference. "I just want equality for men's and women's matches. That's what I'm unhappy about. I have no problem where I play. I'll play on the practice courts if I need to. I have no problem with that."
But when asked whether she could imagine a five-time male champion being scheduled on an outside court, she reportedly replied with a smile and a "I haven't seen that in the scheduling yet."
Williams went on to critique Wimbledon's scheduling, saying it's "not the ideal schedule for women. We like to see an equal amount of matches. We don't want more, just the same amount — that's all." Seems reasonable. She went on:
I'm sure that the WTA supervisors have done their best to try to make the schedule equal. But also the All England Club has to have a culture where they want to have equality, as well. They need to want to pursue that. I would love to see where we don't have to talk about this any more in the press conference.
The two largest courts at the tournament are Centre Court, which holds 15,000, and Court No. 1, which holds about 11,000. On Thursday, just one women's match was played on Centre Court and Court No. 1, while two men's matches were played on each. Two men's and two women's matches were played on Court No. 2, which holds 4,000.