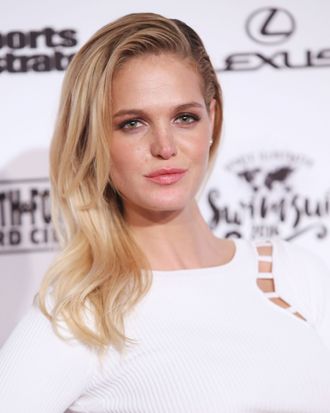 Erin Heatherton.
Photo: Bennett Raglin/Getty Images
Erin Heatherton, a Victoria's Secret model and ex-girlfriend of Leonardo DiCaprio, currently lives in a West Village condo building. The board of that building is suing her, "Page Six" reports, for driving neighbors to distraction with the sounds of her allegedly raucous parties.
The suit claims that Heatherton "regularly causes and allows unreasonable levels of noise and bass vibrations to emanate from the unit into the condo's common areas and adjacent units late at night and into the early morning hours, disturbing the condo's residents and interfering with their ability to use and enjoy their units."
Yet more evidence that the life of a model is desirable. Unfortunately, Heatherton will have to answer these claims in court. Today, she told "Page Six" that they are "not true." She then told the outlet to "call my publicist." "Page Six" notes she sounded "tired." (Heatherton also apparently owes the building $16,000 in unpaid common charges.)
A cursory examination of Heatherton's Instagram account shows no signs of condo partying, but she did recently meet the Stanley Cup.