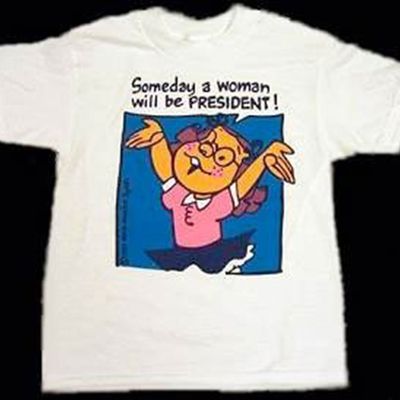 The shirt was considered "offensive" and against "family values."
Photo: Courtesy of Twitter/nick_kapur
In the year 1995, when Hillary Clinton was First Lady in the White House, a now-viral T-shirt emblazoned with the words "Someday a woman will be PRESIDENT!" was pulled from Walmart's shelves. Consider the word PRESIDENT, insistently presented in all caps, and then consider this: Walmart removed the shirt from stores (about 20 years before Clinton would become the first woman U.S. presidential nominee of a major party) because it was "offensive" and went against Walmart's "family values."
The T-shirt, which features feminist-in-training Margaret from Hank Ketcham's "Dennis the Menace" comic strip, went viral on Tuesday night after a Rutgers University professor shared an old Associated Press story on Twitter. This morning, he shared a photo of the shirt:
The T-shirt's designer, then-70-year-old Florida psychologist Ann Ruben, explained the blowback in 1995 with a response that may sound familiar: "Promoting females as leaders is still a very threatening concept in this country," she said.
She went to the media after Walmart pulled the shirt. "I was never aware that promoting women as leaders flew in the face of family values," she told People. "It didn't make any sense."
As noted by Jezebel, the same 1995 People article reported that Walmart was inundated with "a storm of complaints" after pulling the shirt — so severe that it ordered 30,000 of the shirts to sell nationwide.
Walmart spokesperson Danit Marquardt emailed the Cut to comment: "Wow, it still pains us that we made this mistake 20 years ago. We're proud of the fact that our country – and our company – has made so much progress in advancing women in the workplace, and in society."