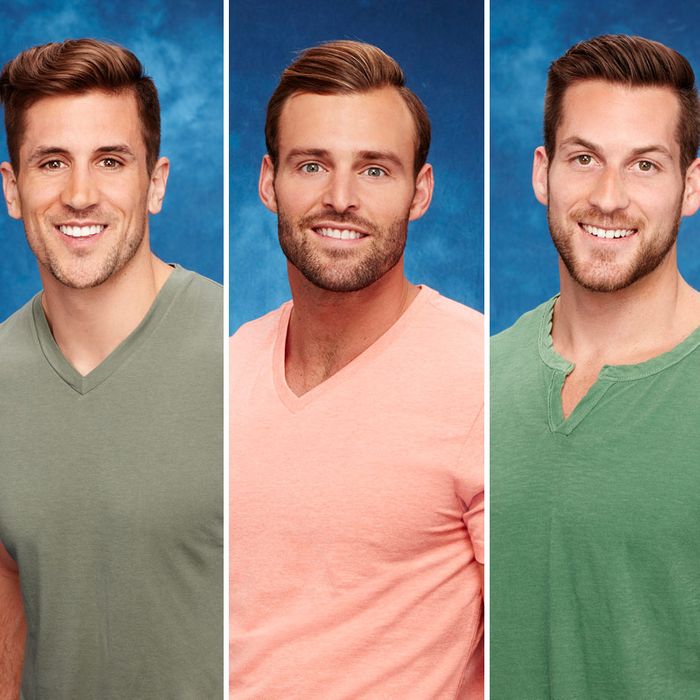 The guy.
Photo: Courtesy of ABC
Welcome to Douche of the Week, where tortured Bachelorette viewers Anna Silman and Allie Jones take turns awarding male contestants on the show with the honor of … Douche of the Week.
Last night on The Bachelorette, our sweet, confused heroine with very specific taste visited her four remaining suitors for "hometown dates." Despite the location changes, from Colorado to California to Texas to Florida, the two-hour episode felt like one long scene starring the same guy with the same haircut telling JoJo the same bad thing about himself.
Look at these guys. They are actually one guy, face-swapping with himself for eternity, each version slightly more degraded than the last. Try to look at the photo above and keep your eyes from crossing. I'm ill.
So, who is the douchiest? All of them. On last night's episode, ROBBY revealed that most people think he came on the show purely for fame; JORDAN talked shit about his absent, famous brother the whole time; LUKE waited until he was about to be sent home to tell JoJo he loved her; and CHASE … hmmm, I forget. The point is, we now know who's going to win The Bachelorette: It's that guy with the swoopy sandy-brown hair who reminds you exactly of the "college guy" who dated half of your friends when you were sophomores in high school. You know, that guy.
You may as well stop watching now. It's not like Olivia Munn is suddenly going to show up. All hope is lost.
Congratulations to that guy on winning both the show and the Cut's prestigious honor of Douche of the Week. As always, we pray for JoJo in this difficult time.