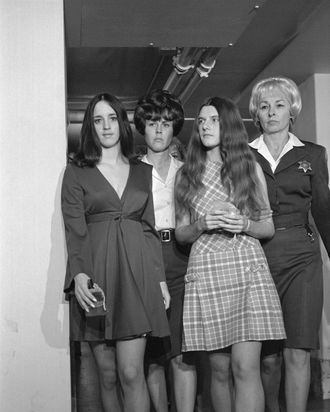 Photo: Bettmann/Getty Images
Charles Manson's followers evoked a certain conventional, and bigoted version of alrightness: white and largely middle-class; wounded by divorce or parental neglect or parental restrictions, chasing an escape fantasy as much for kicks as in desperation. As Ed Sanders wrote in The Family, "from the standpoint of vulnerability, the flower movement was like a valley of thousands of plump white rabbits surrounded by wounded coyotes." Manson was a coyote, but while he preyed on his followers, he did worse than kill them — he made them like him. They acted at his command, but parents and onlookers were likely as disturbed by the ways in which they were agent. We can't know if Manson was more evil than his acolytes, only that he was better at it. He was a myth, and a wrench in the myth of bourgeois innocence.
The Girls — Emma Cline's new novel of counterculture coming of age, out this summer — is not quite a Manson book. We know who "the girls" are, on their California commune, and who their buckskin-wearing overlord represents. Yet the book's true subject is teen angst, and Cline is less engaged with the Manson Family itself than with the modern myth. As with many tales of teenage drama, the high-stakes trappings serve primarily to validate low-stakes teenage suffering: to scale up growing pains to mythic proportions, or make them look as gruesome as they feel. The book's biggest problem is that (to repurpose a phrase from Camille Paglia) it "lacks a profound sense of evil."
Its protagonist, Evie Boyd, is a 14-year-old girl from a wealthy family who meets a radiant, dumpster-diving stranger named Suzanne outside a drug store: She'd been trying out lipsticks, while Suzanne had been trying to steal toilet paper. One day, while Evie tends to a broken bike on the side of the road, Suzanne pulls up in a bus full of blissed-out girls who take her to meet their leader on the ranch. For the rest of the summer, Evie dabbles in Family life and develops tormented feelings for Suzanne, while dealing with her parents' divorce, her mother's desperation, the end of a childhood friendship and a dawning awareness of her body and its implications. It's no spoiler to reveal that she never participates in the murders: The book is narrated by Evie in middle age. The question looms — could she have done it, had things been ever so slightly different? — but it's ornamental. She just isn't written that way.
Cline is a beautiful writer. Line for line, her character's observations are aligned to the world and vibrant, sometimes startling. But amid this lyricism, Evie feels at times like an abstraction of the teenage girl in trouble, more than an actual teenage girl in trouble — she's a product of adult reflection. The teenage girl is a loaded concept, and while most teenage girls struggle in some way to negotiate the identity as they've understood it, they're less preoccupied with their own symbolism than the writers who depict them tend to be. Teenage girls have other concerns. In narrative, the teenage girl's troubles generally involve some essential innocence lost, taken, or threatened. Of course, innocence is another adult ideal, an insidious one that indemnifies some while excluding others from protection: a fetish, or a moral position, or a device to explain predation, since it means the opposite of complicity. There is a difference between innocence and vulnerability.
Cline seems to get the gist of this — the book is, after all, narrated by an adult. Evie never really comes to harm, which might be her author's way of avoiding sensationalism, giving us more, instead, of her inner life, which is rendered in lovely prose, and somewhat sophisticated. Evie is ambivalent about her desires and the desires she recognizes in others, about her social roles, and her attraction to Suzanne. (Her articulation of these conflicts sometimes reads like rote contemporary feminism, though: "At that age, I was, first and foremost, a thing to be judged," she says before her first meeting with Russell, "and that shifted the power in every interaction onto the other person"). Cline complicates her innocence just enough, but she sidesteps the matter of her character's true vulnerability, to others, mostly, but also to herself.
She also bowdlerizes her source material. Russell is a bad man with a harem of teenage girls, at least some of whom he has sex with; Evie is shocked when she observes him slap someone. He orders his followers to kill the Dennis Wilson-ish rock star who failed to make him famous, and they kill four of his houseguests instead. Charles Manson, meanwhile, was a career predator who farmed girls and women like pigs and acid-boiled his followers, while subjecting them to mind-control tactics he'd extracted from Dale Carnegie texts and the pimps he met in prison, as well as racist hysteria. He expected the girls to have sex at his will, with him or with anyone of his choosing, and he beat some of them. In 1970, Linda Kasabian described a female follower of "maybe 16. She was shy and withdrawn. And she was lying in the middle of the floor. Charlie took her clothes off and started making love to her. She resisted and finally bit him in the shoulder and he hit her in the face." He ordered or participated in the murders of nine people, and the attempted murder of at least one more.
In The Girls, evil is a tint for the essentially banal — Cline, like her protagonist, reaches for something she's unwilling to commit to. But part of what gives the Manson girls their mythic power, and what might have made their story such an effective match for Evie's, is that they've been barely understood. An effort to understand might have produced a more nuanced account of vulnerability: what it means to be in harm's way but still human, susceptible to terrible influences from both outside and within. The Manson girls weren't innocent, but like all girls, to different degrees, they were vulnerable: at a hazardous intersection of life, during a time when their humanity was at a discount. Like so many teenage girls of fiction, they've been reduced to ciphers; The Girls might have attempted to make their motives comprehensible, but instead it reduces them to a backdrop, setting its protagonist apart.
The book's most honest lines come toward the end. "I got the snuffed out story of the bystander," Evie reflects, "a fugitive without a crime, half hoping and half terrified that no one was ever coming for me." The book's lot, it seems, is safety.