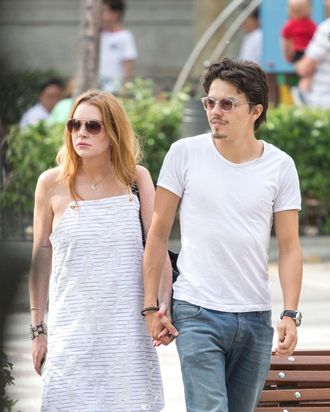 Lindsay Lohan and Egor Tarabasov.
Photo: Iconic/Getty Images
Last night, the British tabloid The Sun published a video of Lindsay Lohan screaming for help on the balcony of her London apartment. The footage was reportedly taken by a neighbor around 5 a.m. Sunday, after Lohan had apparently gotten into a fight with her fiancé, the 23-year-old Russian businessman Egor Tarabasov. The video is grainy, but Lohan can clearly be heard giving her name and address to a neighbor and shouting, "Please please please. He just strangled me. He almost killed me."
According to The Sun, police showed up at Lohan's apartment shortly thereafter based on reports of a "woman in distress." They forced entry into the apartment but found no one inside and no evidence of a crime. A spokesperson for the police told The Sun, "There was no one inside but enquiries were made and the occupants were traced and found to be safe and well." The cops made no arrests.
How did we get here?
Lohan reportedly got engaged to Tarabasov in April, though she has, at various points, denied this. All seemed well in the relationship, however, until two weeks ago, when several gossip outlets reported that the couple got into some kind of argument at Lohan's birthday party in Greece. Lohan reportedly threw Tarabasov's phone into the ocean, but she denied this and posted a somewhat comforting Instagram caption: "Falling in love in exhausting … Especially when you're the older woman and have already seen it all #love is the most important thing at the end of the day #serenity."
But then, this weekend, all hell broke loose.
E.T phone home?
People notes that "the first hint of trouble came Friday," when Lohan posted a Snapchat alluding to some kind of relationship drama. "My fiancé's being really angry at me, but I'm drinking water to get him to come home," she reportedly said in the snap. "Honey, come home, please."
Lohan captioned the video "ET phone home."
A Russian hooker?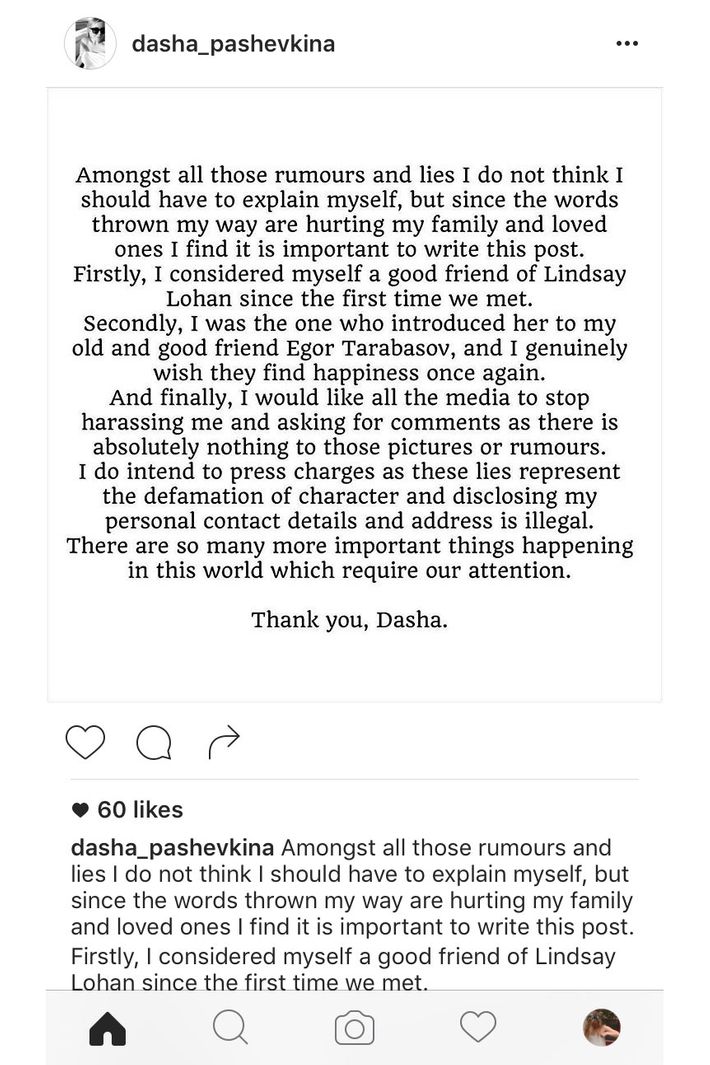 On Saturday, Lohan posted and deleted several tweets and Instagrams about Tarabasov, some of which were completely unintelligible. She captioned one photo of herself and Tarabasov, "I guess I was the same at 23… Sh*tty time - it changes at 26/27. @e2505t thanks for not coming home tonight. Fame changes people."
She captioned another photo of Tarabasov and Russian fashion designer Dasha Pashevkina, "Wow thanks #fiance with Russian hooker @pa5hlondon," and she captioned a video of Tarabasov, "Home? First time in my life-bare with he/ he cheated on me with hooker."
Pashevkina responded to these muddled allegations with an Instagram post of her own, and then she apparently deleted her entire account.
Labor pains?
Later on Saturday, Lohan tweeted that she was pregnant. She included a link to a photo of her looking pregnant in the 2009 ABC Family movie Labor Pains.
As Saturday turned to Sunday morning, Lohan continued to post and delete impenetrable Instagrams. She captioned one photo of Tarabasov, "You're suits are As only as myself, Roman and and tags ahi. Wiggins v."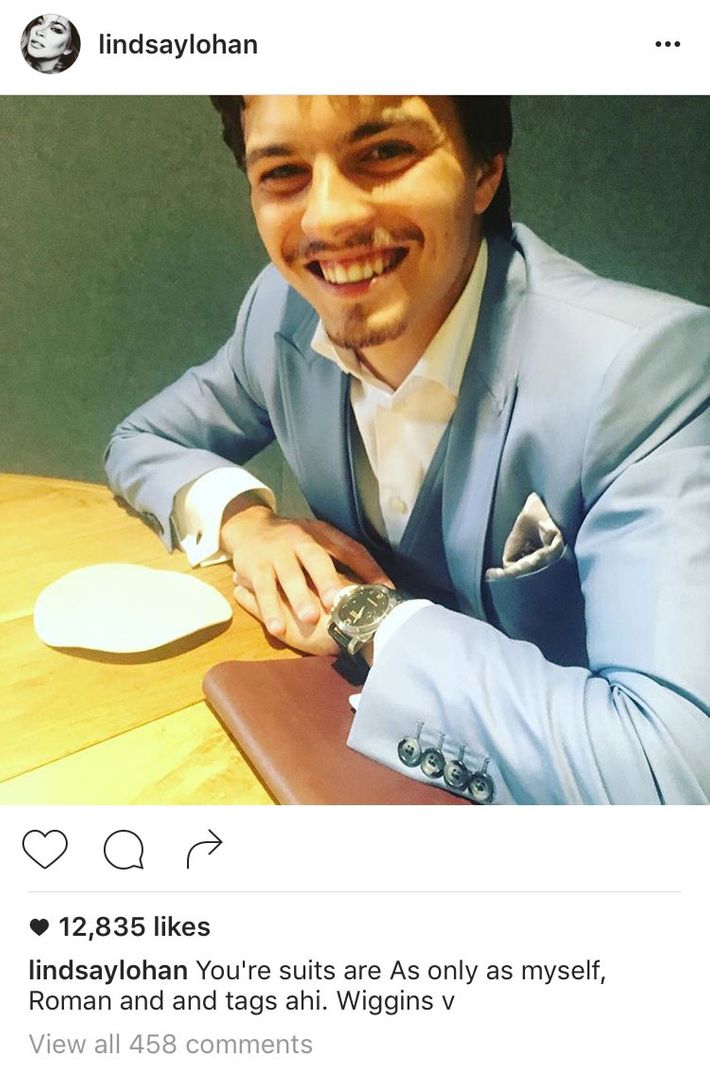 Lohan's sometimes-estranged father Michael Lohan talked to Us Weekly, of course, about all of this. He told the tabloid that he believes Tarabasov cheated on his daughter, but he could not confirm that she is pregnant. The interview does not mention any sort of physical fight between Tarabasov and Lindsay Lohan, but it was published before The Sun released the video of Lohan in distress.
Is everything all right?
The Sun reported that after the cops left Lohan's apartment on Sunday morning, things quieted down, and Lohan was spotted leaving the apartment later that night "with a pal."
On Instagram, Lohan reached out to her old Freaky Friday co-star Jamie Lee Curtis. She reposted a photo of Curtis and other Scream Queens actors at Comic-Con with the caption, "@leicachick sending all my love - with you, they have futures ahead of them. Miss you. beautiful people inside and out @curtisleejamie." (This is neither here nor there, but it appears @leicachick is Curtis's private Instagram account.)
Lohan has yet to officially comment on her possible pregnancy or any allegations of cheating or abuse.