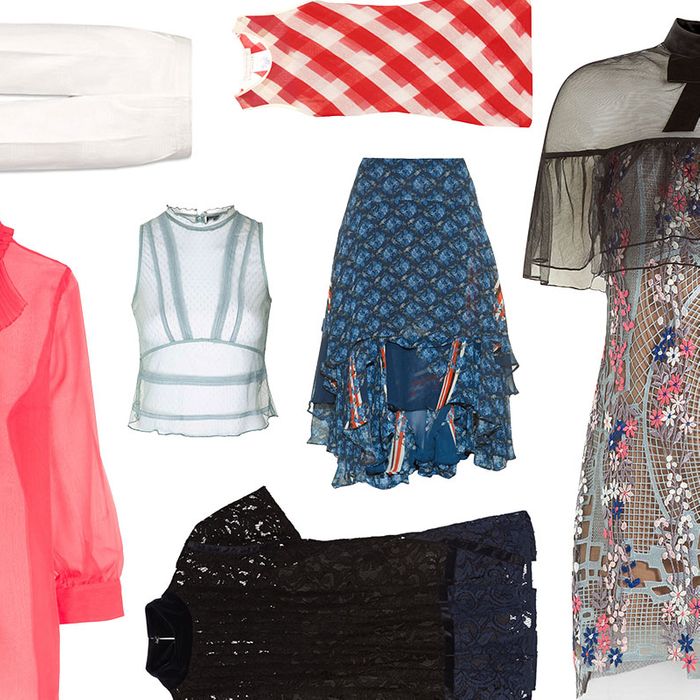 On hot days when you still want to look pulled-together, a sheer blouse can be a lifesaver. But it's often challenging to find underwear that won't overheat you or make you look too naked. Below, we've rounded up the cutest sheer clothing for sticky days, paired with the proper attire to wear underneath.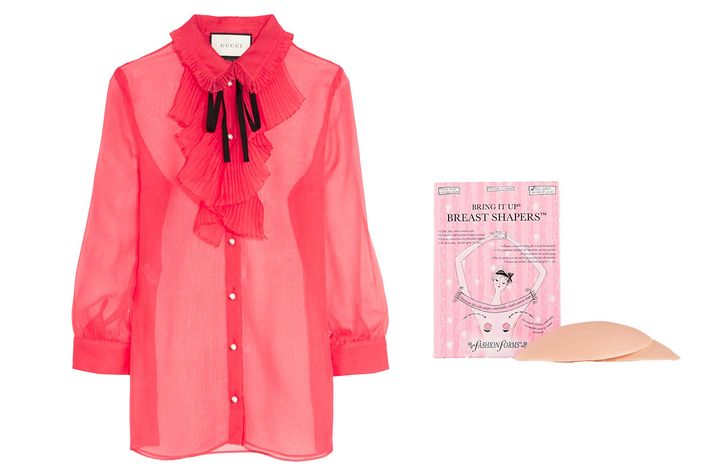 At the moment, nothing says "I live for fashion" like a sheer Gucci blouse. We would never judge you for letting your nipples show through, but if you want a little more coverage, these Fashion Forms gel shapers can withstand any humidity.
Gucci Blouse, $1,390 at Gucci; Fashion Forms Silicone Gel Shapers, $30 at Net-a-Porter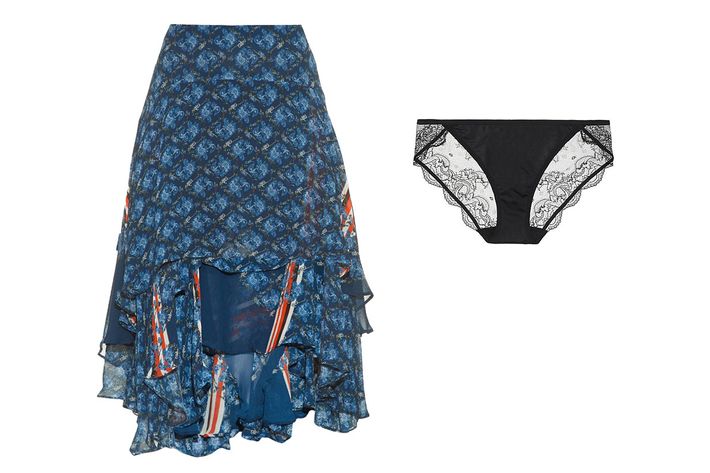 The downside to a sheer, flowy skirt: It can turn transparent in bright light. Try pairing with a black matte bikini so that you don't have to spend your whole day hiding from the sun.
Preen Skirt, $265 at Matches Fashion, Natori Bikini, $30 at Journelle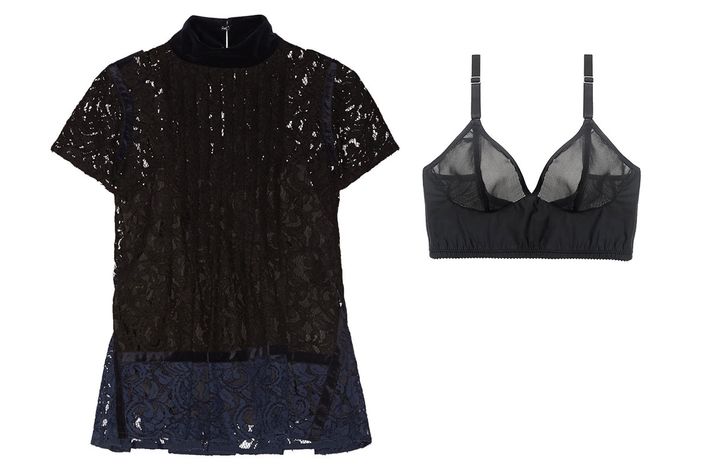 This elegant lace blouse by Sacai is perfect for summer dinner parties and less formal evening events. To keep it classy, pair it with a bra like this one from Fortnight Lingerie. The stretch panels on the sides provide real support, while the barely-there mesh cups offer a universal fit.
Sacai Blouse, $605 at Net-a-Porter, Fortnight Lingerie Bra, $98 at Journelle
The sweetest baby-doll dress we've seen in a while deserves a bra that won't steal the spotlight. This stretch-jersey bandeau stays in place so you don't have to fidget all night.
Self-Portrait Dress, $449 at Stylebop, Commando Bandeau Bra, $54 at Net-a-Porter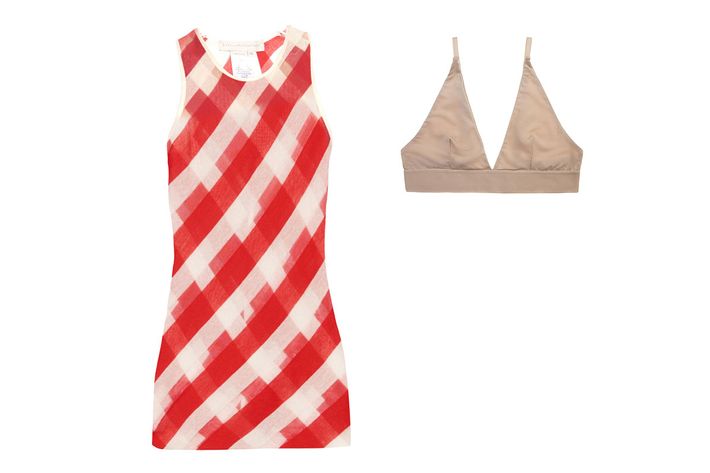 The see-through stripes on this sleeveless cotton Stella McCartney top are trendy but hard to figure out how to navigate, bra-wise. The Fashion Forms shapers above would be great, but you could also try this minimal tan bra from Base Range — it's wireless and hardly visible.
Stella McCartney Top, $267 at Matches Fashion, Base Range Bra, $62 at Journelle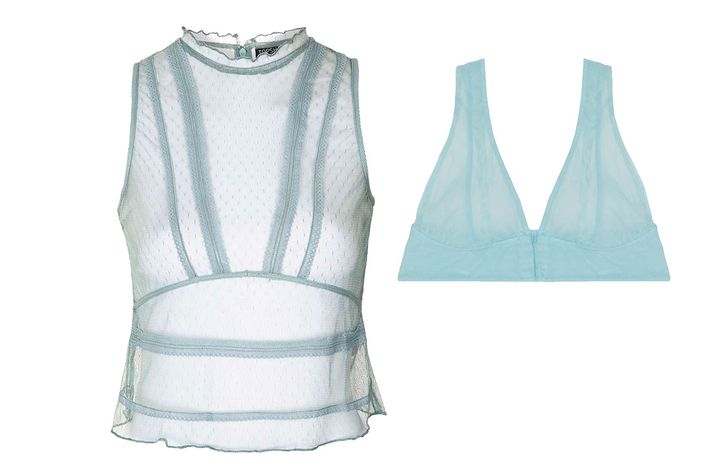 A shell top like this one from Topshop can be styled with jeans or nicer pants for special occasions. Since it's such a particular color, really the only way to wear something underneath is to make it blend in a delicate manner.
Topshop Blouse, $45 at Topshop, Clo Intimo Bra, $44 at Journelle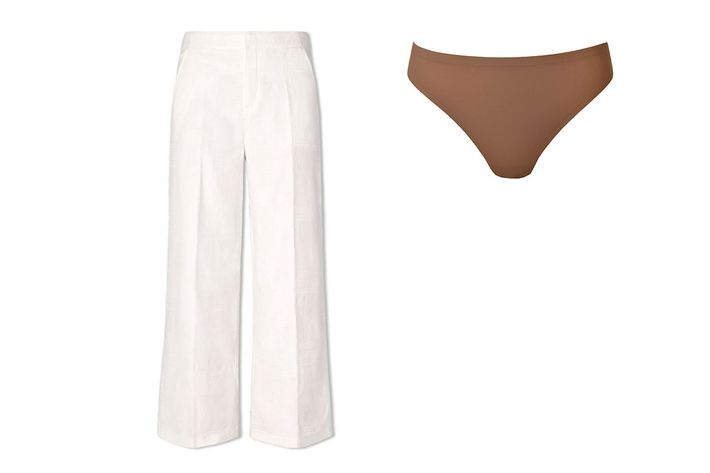 There's nothing worse than leaving the house in white pants and then realizing that everyone can see your underwear. Wearing white under white actually makes things worse, so opt for a "nude" or brown thong like this one from Nubian Skin.
Tory Burch Culottes, $295 at Tory Burch, Nubian Skin Thong, $16 at Nubian Skin